This project offered an opportunity to approximately 300 students, both Indigenous and non-Indigenous, to connect to seal hunting, a contemporary and important issue in our country as well as internationally, in a tactile and deep way.
Student Essays
To prepare for the project students learned about Inuit seal hunting from the Inuit perspective by watching the film Angry Inuk (Arnaquq-Baril, 2016) and through writing independent research essays:
Anti-Sealers, Angry Inuk: An Examination of Anti-Sealing's Effects On Inuit
The Cultural, Economic and Dietary Importance of Seal Hunting for Inuit
Workshops
Eight groups of students in anthropology, sociology and Journeys cohorts had the opportunity to work with seal skin in a workshop guided by a cultural expert to make something they kept (key chain, earrings, bracelet, small owl). Workshops were also offered to the Dawson community more broadly during Multicultural Days, First Peoples' Week and the ALC conference.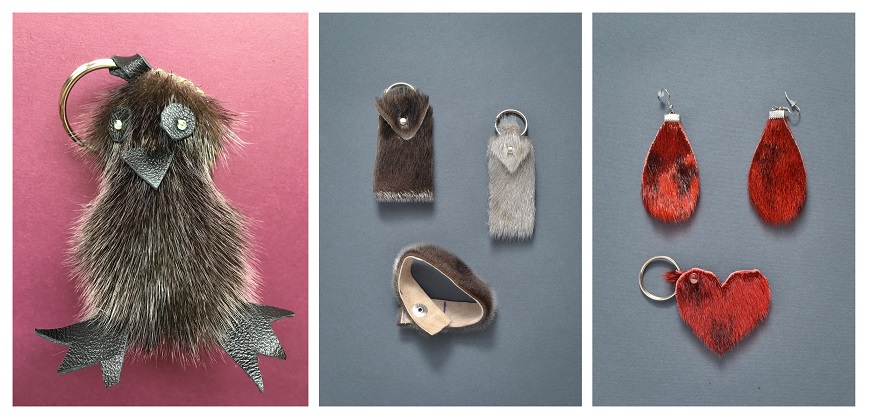 An advanced five-week seal skin mitten workshop was completed in collaboration with the First Peoples' Centre.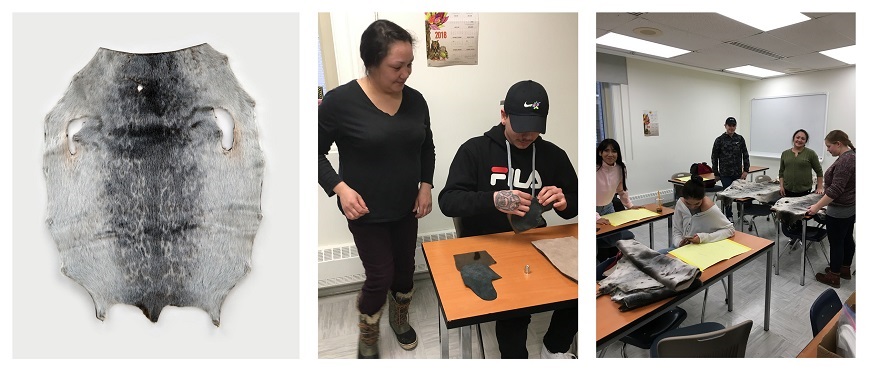 Ilitsilaurtavut: something we learned
Student Reflections
"I experienced a slight moral dilemma at the beginning of this workshop. As a vegetarian, when we were introduced to this assignment, I immediately opted for the alternative craft [to work with vegan leather]. However, upon arrival I began strongly questioning this decision. When I thought about it, the reasons why I am vegetarian is related to the ethical issue of the way meat is handled in the industry in terms of the mistreatment of animals as well as environmental reasons. When I looked at both the vegan leather and the seal skin, I began to question my initial instinct. The seal was killed in an ethical way and I know this as fact. I do not however know the ethical side of the leather. In addition, the seal skin is natural whereas the leather is plastic. It began to seem to me like the seal skin was morally the better option.
Having Daisy [the cultural expert who ran the workshop] there to give Tristan and I guidance on how to cut the skin was very useful. She is well practiced and gave us advice that helped in the making of my keychain. I enjoyed that the activity felt relaxed and casual and that we could work independently but also had the support of our peers or experts to help us. I believe that this format of learning is missing from most classes and therefore I was grateful to have it in Anthropology! As a kinetic learner, opportunities like this are rare but very useful in my comprehension of a subject."
...
This workshop was really meaningful and interesting.
I really liked the fact that we got to learn how to cut and manipulate the sealskin.
I participated by waiting for instruction and by helping my friends out.
Then Daisy, the instructor taught me how to grip the blade and the skin.
It [this workshop] showcased, in a way, participant observation as we worked with seal skin which is traditional and symbolistic to the Inuit.
...
We all worked cooperatively with the required materials yet individually created our own seal skin products.
I also learned that there is a lot of attention and precision that has to be put into making a single product.
A truly a unique experience that complements a big topic that has been discussed in classes.
The activity was also very interesting because it emphasizes on the importance of learning through field work as it showcases a certain reality to seal skin which is essential in order to have respect for it.
...
I felt very accomplished when I saw the result of my sealskin keychain. I worked alongside one of my classmates who I do not normally talk to very much. It was nice to have the opportunity to try something new, I learned how to cut seal skin which is a very interesting yet difficult process and would definitely recommend this type of activity for future classes because it is not only fun by also educational.
...
It felt nice exploring a culture we are not often exposed to and to experience it firsthand. I cannot imagine the amount of time and work it takes the workers to create as many sealskin products as they do.
...
It was an amazing learning experience; it is very calming, and it can help people get over the sealskin/seal hunting stereotypes.
...
This event was unlike any in which I've participated because it involved crafting with a material I had never used, owned, or even touched before—seal skin. I really liked that it was set up in a way that had us working in a large "circle" and side by side because it allowed us to watch, learn, and be inspired from and by each other. I would definitely recommend this type of activity for future classes, as it was relaxing, very fun, and unique.
...
The workshop was an extremely relaxing and comfortable way to learn about cultural practices that are different from our own Western ones. It is an interesting and fun way to get hands-on with an unfamiliar culture and work with materials that we might not have even heard of before!
...
Seal hunting benefits many communities in various ways and there are many wonderful uses for it.
Making my own product out of seal skin was very exciting for me.
The atmosphere was happy.
I recommend this activity for other classes because it is not only educational, but it brings people together by bonding over different pattern choices or helping each other get the best possible outcome.
#Sealfies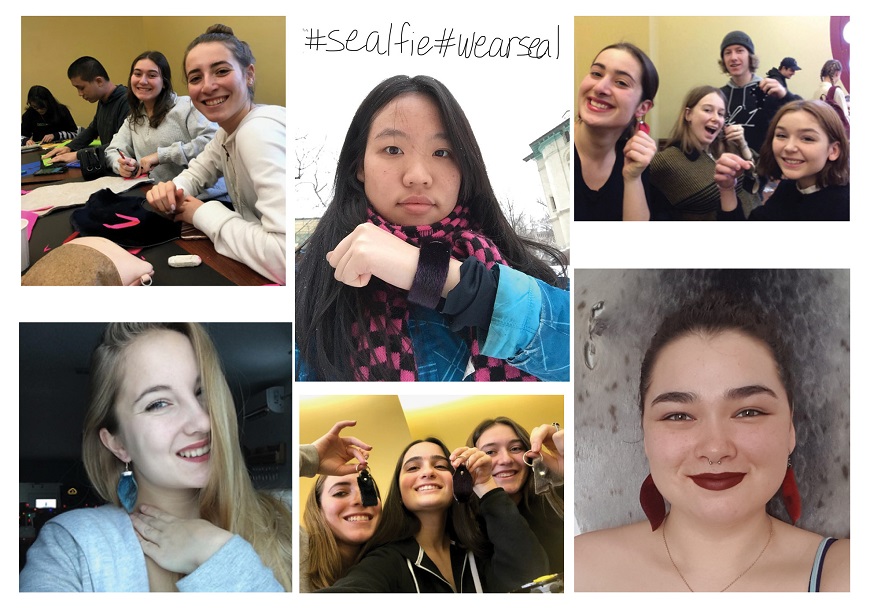 Perspectitives Exhibition
Items created in the sealskin workshops, in addition to the students' reflections on the learning process and essays, were showcased in the SPACE Perspectives Exhibition held in the spring of 2019 in the Warren G. Flowers Art Gallery.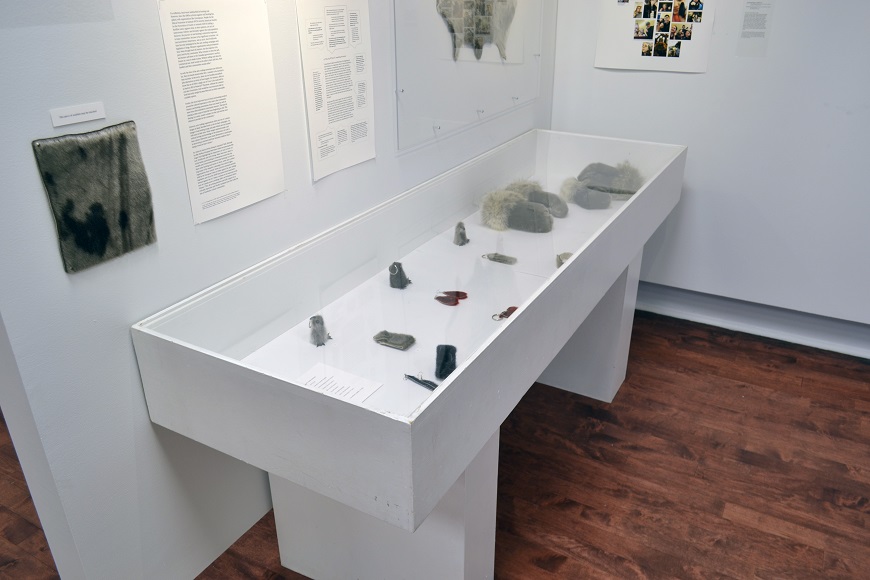 RECOGNITION
Many Inuit cultural experts were involved in this project. Special thanks are due to cultural expert Daisy Savard who ran numerous seal skin workshops and the five-week mitten workshop, Tina Pisuktie who helped out at the last minute for one of our workshops and to Hannah Tooktoo, a Dawson student who helped to guide this project as it took shape and ran a seal skin workshop for a group of students, as well as to Tiawenti:non Canadian, Coordinator, First Peoples' Centre, for her support.
A MESSAGE FROM PARTICIPATING NON-INUIT/NON-INDIGENOUS STUDENTS
We have done our best to share our learning with you and would like to highlight that: We are not experts. We are not Inuit. This is what we have learned. This project comes from a place of respect and curiosity.
Acknowledgements
Photo Credits:
Ookpik, key chains and bracelet, earrings and key chain, sealskin pelt, exhibition display—photos by Frank Mulvey.
#Sealfies—photo contributions by Hannah Elias, Julia Pisaturo, Clementine Salaun, Hannah Tooktoo, and Erica Zhang