Terms of Use Reflection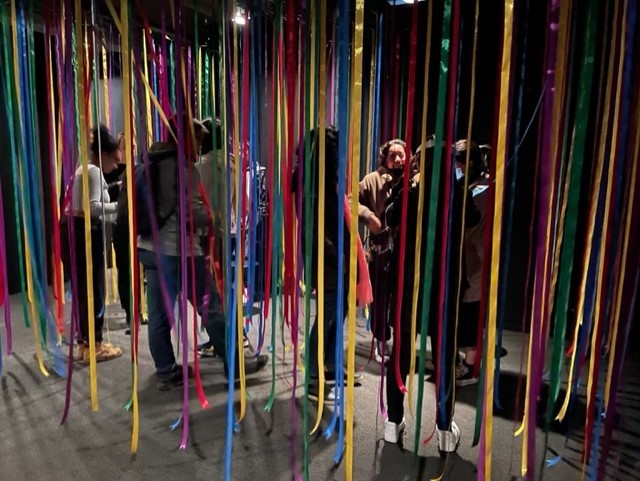 As a student taking some classes in Art History and Museum Education, I have gone to dozens of exhibits, both archaeological and contemporary. Last semester I went to the Phi Foundation to see Yayoi Kusama's newest works and I was impressed once again by the Phi Foundation. The curation and tour experience for the visitors is sublime. The layout was similar to exhibits I had gone to at the McCord museum: minimalistic and spacious. However, the Phi Foundation offered much better guided tours. I visited three times over the year and experienced tours with several guides. Each time they were so patient and excellent at engaging students in slow looking; something that is usually the biggest challenge for people new to museums, including myself. I loved the conversations that were generated in these quiet corners of the museum, such as in front of the iPhone shrine.
Unlike prior experiences, this was the first time I visited with non-art program students and surprisingly it has been my absolute favorite one. The perspectives that were offered from students from the social science and science programs were so insightful because their imagination saw further into the future than most. They were unafraid of these new technologies and embraced the human creativity and ingenuity that lay behind these pieces.
Thematically this was such a captivating topic for me because my relationship to technology has been an ongoing personal dilemma. I spontaneously deleted my account after high school and went without it for nearly a year, but now I am back on, for hours a day. I was just reading Trick Mirror by Jia Tolentino and there was a fascinating chapter regarding the impact of social media on women and their minds and bodies. When I saw the cinematic work by Wu Tsang I immediately thought of this line from Tolentino's book, "the cyborg is powerful because she grasps the potential of her own artificiality". This seemed to also correlate with the curatorial text for the Terms of Use exhibit which was, "how we make use of them (technologies), and to what extent they are using us". This old sci-fi archetype of cyborg is truly coming to life, and is apparent in Tsang's film. Tsang's work pushed me to further question my ideas of self as technology becomes more and more embedded in my life. In the case of Bliss, they are hypnotized by the light of their phone and there is a narrator telling them what to feel. They are almost inseparable from the gaze of the public and getting stimulation and gratification from their phone. I related to this on some level and it made me deeply uncomfortable but also offered me a sense of catharsis, as I could further delve into the ideas of feeling trapped by my social medias.
There is a creepy kind of absence and apathy people have in their face as they scroll through videos and images, and these apps know them so well. Like Tolentino writes, I want to be aware of how much space this takes up in my mind thus taking control of my time and life. We always rely on the fact that we are the controllers of the technologies we invent and use, but I find everyone around me is not aware of the ways they are letting go of the reigns.
The class visit to the Phi Foundation guided students to engage with art works from the Terms of Use exhibition. Terms of Use brings together works that explore the impact of technologies on the definition, construction, and (re)framing of individual and collective selves, as we grapple with living simultaneously online and AFK (away from keyboard).