Transfixed: A Horror Story
Illustrated by Jasmine Loiseau
transfixed
trans·fix
[trans-fiks]
verb (used with object), trans·fixed or trans·fixt, trans·fix·ing.
to fix or fasten by piercing; to make or hold motionless with amazement, awe, terror, etc.
As I heard those five familiar words, the room went cold. My entire body froze with fear. I needed to run, to escape, but there was no fast way out this time. I tilted my head, blinking back tears, and I felt her steady gaze on my face. I shut my eyes, hoping she'd disappear - vanish. I couldn't stand to do this again. Not right now. Not after the last time; it was just too much, far too soon.
I hopelessly tried to swallow the lump in my throat, but I could still feel her pressing eyes like venomous fangs boring into me. Shuddering, I somehow managed to take a few breaths, slowly settling my erratic pulse. The knots in my stomach began to unwind, releasing at least some of the agonizing pressure wrenching my stomach. She starred up at me with her menacing eyes. I knew the hunger, the greed that lingered behind her friendly smile. It was the same smile that had tricked me the first time. And I had stupidly believed it.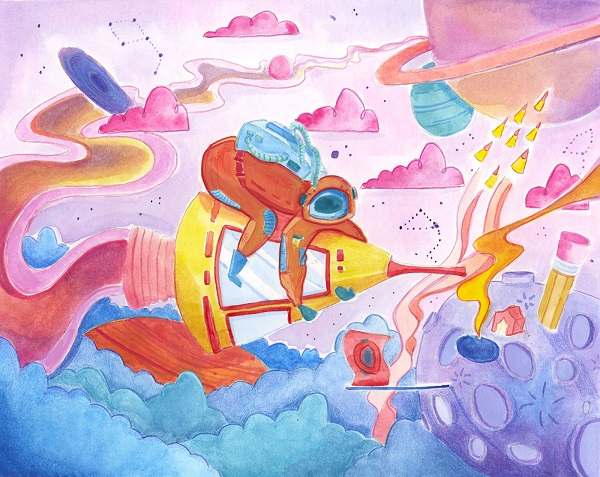 Even now, knowing the truth, after all the sleepless nights I had spent suffering in agony, I could not deny her. Not just her – but anyone in this place. My fist was clenched to my chest, nails biting into my skin. I felt four punctures slowly opening in my flesh, stinging raw. I quickly said my silent goodbye and mustered up every ounce of courage flowing through my broken soul. With her eyes still on me, eyebrows raised, I forced myself to look up. Shaping the ghost of a word on my trembling lips, I accepted my fate. I exhaled the two syllables that have haunted me for weeks.
Bor-row.
I knew it was all a lie, and that I had to be brave, hopefully for the last time. With a plastered smile on my face, I outstretched my hand, my power and dignity playing dead in my palm.
Surrendering, I breathed, "Sure, you can borrow my pencil."