Trans-dependence: the return of El-Cid
"Ride, Cid, most noble Campeador, for never yet did knight/ Ride forth upon an hour whose aspect was so bright."
-El Cantar de Mio Cid 1.14
El Cid: a name shrouded in mystery, borne on the wings of Christian valour, immortalized through epic poetry; a man heralded as the national hero of Spain and the scourge of the Moors. Yet I would hazard a guess that for most people, the first thing that comes to mind when someone mentions the name "El Cid" is movie star Charlton Heston.
All kidding aside, Rodrigo Díaz del Vivar, more commonly referred to as El Cid, was an eleventh-century warrior-knight of Castile who fought and died for the ideal of a unified Spain. He is praised both for his extraordinary heroism as well as for his fierce fighting spirit, while his legacy has been maintained to this day through poetry, film, song, and literature. El Cid is memorialized as the Spanish patriot, an example for all to emulate.
Yet despite the brave efforts made by this heroic figure generations ago, El Cid's dream of a united Spain has yet to come to pass. Today, nationalistic sentiments flourish throughout the country, particularly in Catalonia and the Basque Country.
Catalan nationalism, which traces its roots back to Reconquista Spain, promotes the cultural unity of the Catalan people whilst striving to wrest power away from the central government in Madrid. Many of the main Catalan political parties allude to Catalan nationalism in some way, shape or form; however, as it is a fairly broad movement, the fervour of these sentiments varies in intensity.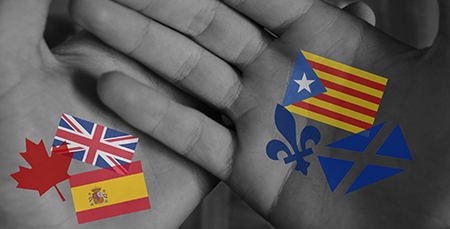 On the whole, Catalan nationalism has been more or less a peaceful movement. This tranquility stands in stark contrast to Basque nationalism, whose ardor has yielded a terrorist organization known as the Euskadi Ta Asatasuna, or ETA. The ETA has claimed over eight hundred victims since its inception in July of 1959. Although in the past few years, loss of support for the group has resulted in a permanent ceasefire as well as a call for peace with the government in Madrid, advocates for the independence of the Basque Country continue to preach their aims.
Even El Cid's home province of Castile continues to be plagued by nationalist sentiment. Some Castilian nationalists strive simply for the national recognition of Castile, while other, more fervent nationalists, call for its outright independence.
As someone who has just returned from a journey to this country ridden with political intrigue and nationalistic strife, I cannot help but to compare the Spanish sentiments with our own little hotbed of Québécois nationalism. Amidst the usual referendum consternation and electoral posturing, this year's electoral candidates were provided with a new hurdle in the form of the Parti Québécois' proposed Charter of Values. For months on end, newspapers and online polls were amping up the energy, furiously debating which side would reign triumphant. And at the end of this long haul, quelle surprise! Not only did the PQ lose by a landslide, but premier Pauline Marois also gained the dubious title of "Fourth Consecutive Premier to Lose His or Her Own Riding."
The Parti Québécois received a further, rather more indirect, blow in the form of Scotland's September 18th referendum designed to determine whether or not the country should assert its independence from the United Kingdom. Supporters of Quebec's sovereignty movement flocked to Scotland in order to support their nationalist brethren - yet despite all odds, 55.3% of voters sided against Scotland's secession from the British Empire. When push came to shove, Scotland's citizens were firm in their decision to remain "United," leaving our native Québécer Independetists to return home sorely disappointed.
Just as in Scotland, the nationalistic divide here in Québec may not be as unbreakable as many would have us believe. To demonstrate, Québec has had not one, but two referendums in the last thirty-odd years, both of which the sovereignty movement lost, contrary to popular belief. At the end of the day, most Québécers all seem to want the same thing: a peaceful place to reside where we can freely be ourselves. Clearly the Charter of Rights and Freedoms wins out over the Charter of Values: what we want most is our right to "life, liberty and security of the person," not a document which would constrict our identities and our values.
In the face of seemingly rising nationalistic sentiments, perhaps Spain needs a hero like El Cid to once again ride to their rescue: someone to unify the country and provide hope for future generations. Heck, I'm pretty sure Canada could use a hero like that as well – perhaps driving a BMW and carrying a cell phone in lieu of a sword. But maybe one day, even without such a legendary figure, we will be able to look beyond our cultural divides and stand united in our quest for peace. And that day may just be sooner than we think.