Tomato Soup
Illustrated by Lydian Kirkwood
He wished he could hear the rain on the roof. Maybe the ceilings were too high, air conditioning too loud. They went to bed 8 hours ago, his freshly pressed pyjama pants not yet wrinkled. Eyes closed, pretending to sleep, he wondered if Esther was doing the same. He strained one eye open to catch a glimpse of the wrinkled woman in freshly pressed pyjamas, her chest rising and falling. Minutes passed of the rain going unheard. It could be pouring, he thought to himself. There could be an apocalyptic storm coming our way and I wouldn't even hear it past these high ceilings, these brick walls.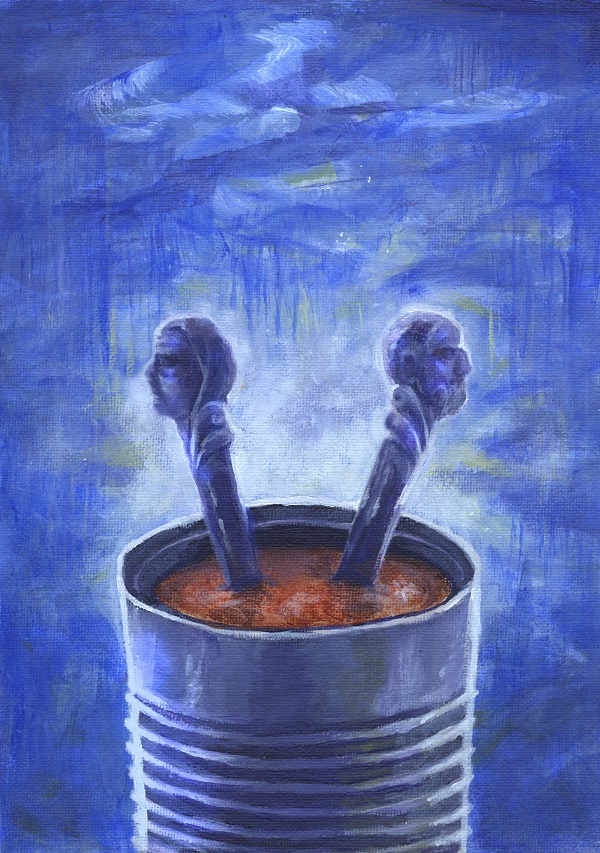 He felt his breath quicken and his heart double in weight and stick in his throat. His feet touched the cold surface of the hardwood floors, and awkwardly he found the flight of stairs to the first floor.
He opened the front door and placed his dry toes on the grey damp tiled walkway.
Wet and silent.
7:45 came around the same way birthdays always arrive; you lie awake in mild anticipation, yet it always comes as a surprise. Esther was already up, her burnt toast wafting up the stairs. He heard the front door close behind her and waited for the key to lock it before pulling off the duvet. His dressing gown was draped over his thinning body. He felt heavier than yesterday. He could still feel the lace between his fingers, the smooth and firm grasp of something new. She was one of those girls who giggled at his British accent and flipped her curly dark hair when she thought he was looking. She preferred lemons to limes and never knew what to say first. Andrea was a girl.
The kitchen was displayed with countertop spreads of different kinds of toast. Dry, unaccompanied. He couldn't remember the last time he had bread that wasn't toasted or burnt––was it even bread anymore? He reached into his cupboard, perhaps the only room in this entity that was his, and pulled out a can of soup. The only food he kept to himself. Creamy chicken. He poured it over three pieces of toast and marvelled as the soft bread sponged against his tongue. The cream salted his lips like a love affair, and his eyes darted to the front door in fear of being caught in the act once more.
The phone didn't ring that morning. With their separate phones it didn't even make sense to have a landline. "It's a waste of money," Esther told him the other day,."It doesn't make sense anymore. Call them to cut it off." He couldn't bring himself to call them though. To cut it off. They both worked to waste money––why not waste it on this?
When he came home from work that day Esther was leaning her back against the island in the kitchen, watching the rain fall from the window above the sink. It was raining every day now. "Look at that..." he said softly to himself. She turned around and looked at him the same way he had felt while eating his soup this morning, thinking about Andrea's lace. "Too bad we can't hear it," he said as casually as he could. "It's the 12th tomorrow," Esther told him.
He knew. And he knew what that implied. When they first started dating they began taking drives through the country. They drove aimlessly in any weather, and this is where he proposed. In the car, driving 150 km an hour. From this day on and throughout their 65 years of marriage, they would take this same drive once a month. They used to take the Audi when it rained and put the roof down; sometimes in the summer Esther would untie the back of her dress. Sometimes he would untie it for her. Then they both grew old at the same time, making the same mistakes, no one taking the high road, so they kept making them, building thicker walls and higher ceilings. But it was the time of the month.
"Where shall we go tomorrow then?" he asked, ignoring her surprise.
"I...hadn't thought about it," she said.
"We don't have to..."
She looked at his face, hopeful after 65 years. "Let's leave by 11," she said.
He walked out of the kitchen as if it were an office, leaving her staring at the rain. I'll open the car door for her tomorrow morning, he thought to himself. She likes that.
The morning came discreetly and they ate their toast together in the kitchen. Esther put breath mints and one cigarette in her purse. He forgot to open her car door. The sky was clear, the air was as cold as it should be in October. After inquiring about work they drove in silence on the highway leading away from town, she contemplating the road ahead of them and he already smelling the breath-mints from her mouth.
He could recognize this moment from highways away. Somehow, somewhere, he had been caught. "I found something that wasn't mine yesterday," Esther said in a voice that restrained something else. The lace, he thought. A strand of Andrea's hair. "It was a can of soup," she said. "I went into the small cupboard by the kitchen pantry and found shelves stacked with different flavours of soup." She said 'soup' with a strong 'p' that bothered him.
"It's something I like to have now and again," he said quietly. Was this really a crime?
"I found something of yours, too," he added bitterly, "a photograph I'd never seen in your vanity." She was quiet and gestured for him to stop there.
"How long have you known?" she asked.
"A month or so. Not like it matters."
"The baby," he went on. "That was between both of you. He's yours, isn't he? That's why you left for a year."
He saw her tiny nod out of the corner of his eye. Something about saying it aloud awoke in himself an unfamiliar rage. It was almost exhilarating.
"That must have been at least 30 years ago," he said, mostly to himself. She lit her cigarette.
"Don't smoke in here," he ordered.
"For God's sake," she replied coldly, putting it in her mouth. "Everyone knows you're fucking other people. Andrea, was it? She's my hairdresser's niece. I've known for months." Her voice broke, but he couldn't properly see her face crumple.
"She's just a girl," he said.
"So am I," she replied.
They continued to drive into what was now the night, her cigarette smoke lingering in the car. Neither one of them noticed the headlights flickering, nor the engine light going out. It was only when the car jaggedly slowed to an abrupt halt that they realized their gas was negative. They were in the midst of pastures and crossroads, far from any means. They sat in silence for 30 minutes. He then reached into the glove compartment and pulled out a can of tomato soup along with one spoon. Somehow, he opened the can. Somehow, he dipped the spoon, passed it to her and somehow, she did the same.