The Body's Revenge
Why do you hate me?
I never did anything wrong to you. I am what I am, and nothing can change me, yet you hate me. I see you gaze upon the silicon-filled, surgically sculpted, photoshopped pictures in your magazines. I feel you ache when you gaze at me in the mirror, and I hear your heavy sighs as you tug, and squeeze, and suck in, and push out. What is wrong with you? What is wrong with me?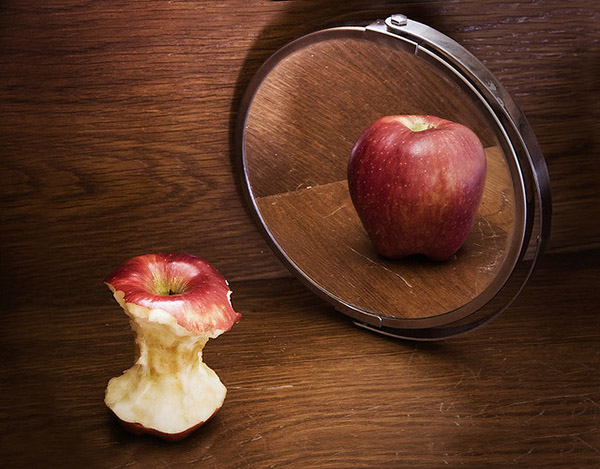 Frankly, I do not understand why you view some of my features as short-comings or downright "ugly". For example, what is so bad about having a small bust? You're sixteen years old and you wear a B-cup, yet that is not enough for you. Size shouldn't matter. And, what is your obsession with the slight deposit of fat around your stomach? Excuse me, but if I did not provide you with enough body fat, you would not be able to bear children properly. Would you rather be barren in exchange for not having what you erroneously describe as "a muffin top"?
Oh, but I see what your problem is. You hate me because you consider the modern paradigm of beauty to be the only paradigm. You think that if I am not completely fat-free, ridiculously large-breasted, and in possession of a flawless complexion, I am ugly.
Well, I have had enough of your bitching, missy.
If you are so desperate to lose weight, why don't I just allow a flu virus to enter me? That way, you'll vomit up every little thing that you consume. That way, you will lose lots of weight, tons of essential weight, just like you wanted. What? Why are you complaining? Is this not what you wanted?
While I'm at it, I believe I will convince your hormones to act up a little bit and cause your breasts pain. No, no, I don't have any reason for doing this, but I will venture to ask you a question: Would you rather have small breasts or small breasts and pain so bad that you cannot bear to truss them up in those awful push-up bras?
Ah, and look at that! The surge of hormones has also made your exceptionally mild case of facial acne much worse than before.
There. Now you are sick, hurt, and pimply. Was it worth it? Was it worth abusing me? Threatening to fill me up with silicon? Forcing me into all sorts of uncomfortable clothes simply because you wanted to "look good"? I would have been fine, and I would have been pleased if you if you had just left me alone and accepted me for who am I. No, it's too late for apologies. You have hurt me greatly, and taking revenge on you has pained me as well.
All I ask is that you accept me. Is it so hard to demand a little bit of love? I was made in likeness of Nature. I look like what the natural forces at work intended. But your society's narrow standards of beauty have turned you against me. Please, reject those shallow mores and love me for me. Is that so much for a body to ask?