Robotics: The New Frontier for Surgery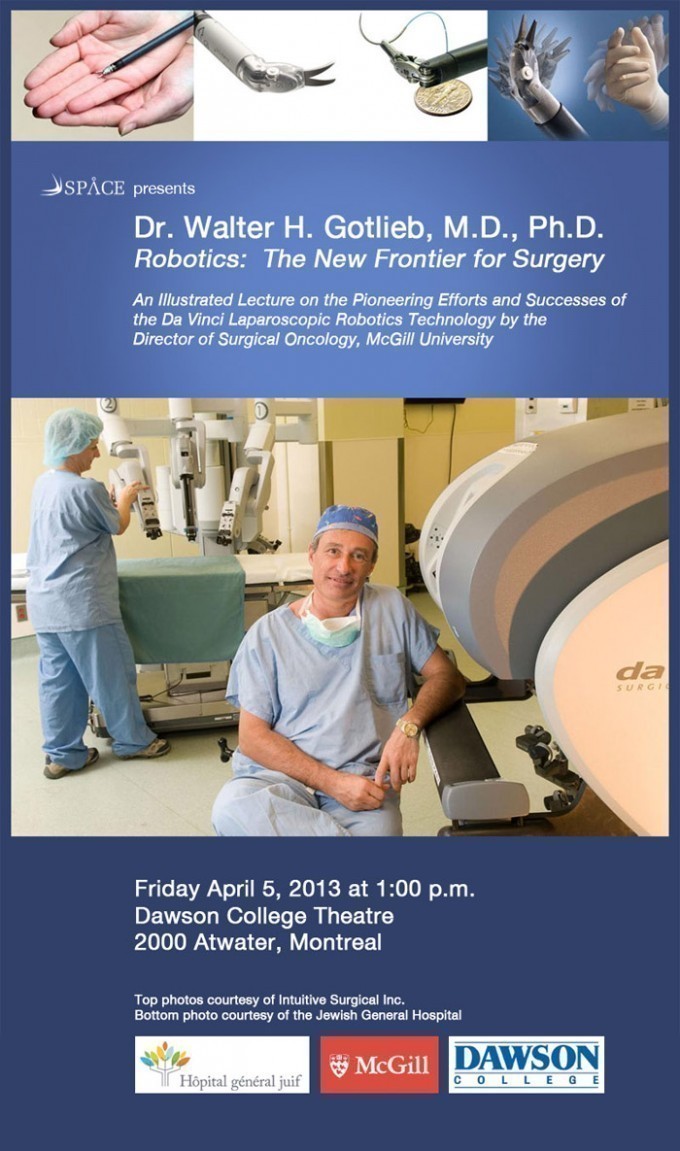 "Traditionally, we were trained believing that 'the bigger the scar the bigger the surgeon'. This paradigm has fundamentally changed and now reads 'the smaller the scar the bigger the surgeon'. Indeed, surgery was performed by laparotomy using large incisions resulting in large scars. However in recent years surgeons have gradually shifted to the minimally invasive approach resulting in shorter hospital stay, fewer complications, and better quality of life.
Robotic surgery, originally developed by NASA to perform surgeries in space stations, has found its way into the civilian operating room. It is revolutionizing access to minimally invasive surgery and patient outcome thanks to improved three dimensional high definition immersion vision and intuitive surgical dexterity with more degrees of freedom compared to the human hand.
Since its introduction at the Jewish General hospital five years ago, the results indicate major benefits of this surgical approach, with lower peri-operative complications, reduced need for pain medications, shorter hospital stay and lower real average hospital costs, as compared to traditional open surgery. In addition, the team was able to increase the proportion of patients benefiting from a minimally invasive surgical approach for certain cancers from 17%, prior to the introduction of the Da Vinci Robot, to over 95% within 2 years.
As our team began seeing the benefits of robotic surgery to patients from a clinical outcomes perspective and to the health care system from a resource utilization and cost perspective, we were emboldened to make the case for its use to patients in Quebec (the McGill University Health Centre, Université de Montréal, Université de Laval), across Canada (The University of Ottawa, St. Michael's Hospital in Toronto, University of Alberta and Vancouver General Hospital) and internationally (China, India, Israel).
The future of robotic-assisted surgery will evolve with the further development of the computer interface present between the surgeon and the patient, that will allow to integrate radiological images obtained prior to surgery into the surgical screen , and by exploiting real time digital analysis of the surgical field, helping the surgeon to identify structures based on differences in color or movement. Pre-operative training on computerized simulation of the surgery and added feedback loops are being developed to further increase safety ultimately benefiting the patients."
Dr. Walter H. Gotlieb, M.D., Ph.D.
Director of Surgical Oncology of McGill University
and world authority on surgical robotics technology.
jghfoundation.org