Healthy Eating in Montreal
Illustrated by SARA HUM
The most common misconception about "eating healthy" is that all healthy food is expensive and tasteless. I beg to differ. Montreal is booming with quaint and charming restaurants that offer alternative healthy eating options at an affordable price without sacrificing taste and gusto. Whether you are vegan, vegetarian, or a hamburger lover, this fabulous city offers plenty of vegan and vegetarian options to satisfy the palates of those who want to think outside their plates.
Known as the "vegan Mecca" of Montreal, Aux Vivres, on St-Laurent, offers a varied and delicious vegan menu. They offer a great selection of affordable entrees, including the vegépaté and their home-style chili (to die for). They also boast a great selection of organic teas, freshly prepared juices and smoothies, as well as fair-trade coffee. Known primarily for their amazingly delicious vegan BLT, the "B" standing for coconut bacon, and their many vegetable and rice bowls (my personal favorite being the Dragon Bowl), Aux Vivres never fails to deliver a flavorful and diverse menu. The restaurant is always clean and the service is always cordial and speedy, which makes it a perfect destination for a lunch time meal between classes or meetings. Aux Vivres offers brunch from 11 to 4 on Saturdays and Sundays, as well as special evening menus and take-out orders.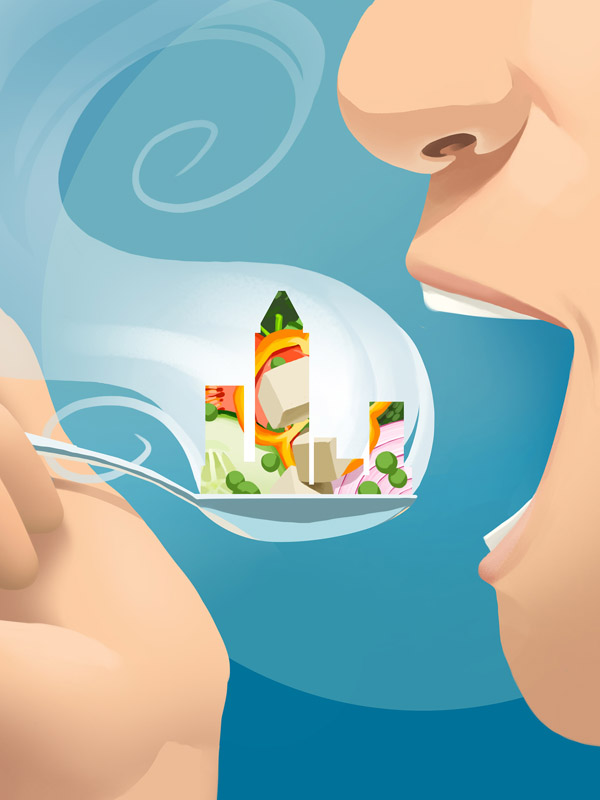 Popular with the crowd of students in Montreal's Latin Quarter, Commensal is the perfect vegetarian cafeteria destination in Montreal. Boasting 3 locations on St-Denis, Mc Gill Avenue and in Laval, le Commensal offers an overwhelming variety of vegetarian foods like lasagna, an impressive variety of salads, vegépaté rolls and other amazing dishes. This restaurant is quite unique, since it allows restaurant goers to fill their plates with whatever they choose and pay only 13.95 at lunch and 16.94 for supper, provided that the total weight of your plate remains under 1kg. Commensal is an excellent option if you which to eat to your heart's content. Commensal offers a catering service if you are ever interested in opting out for the foie gras and duck paté hors d'oeuvres and prefer a healthy vegetarian option for your dinner parties.
Crudessence is Montreal's go to place for raw food lovers. They offer two restaurants, one on Rachel Street and the other on Mackey Street. Both restaurants have different menus, depending on their chefs. Say what you want about the "raw food movement", but the success of Crudessence is undeniable. They use mainly seasonal products and food to make up their menu options so your environmental conscience can rest at ease. The offer sandwiches, salads, and various pasta dishes (all raw, obviously) and an impressive selection of delicious deserts like raw chocolates, brownies, tiramisu and baklava. Their price points are a bit steeper than restaurants like Aux Vivres and Commensal, but it is definitely an experience you do not want to miss.
For those who are affected by food allergies, eating out can be a game of luck; you're never sure if certain restaurants will accommodate your needs and you almost always opt out of choosing delicious deserts because the ingredients are somewhat suspect. Luckily for you, there are restaurant owners and bakeries that understand your dilemma. Zero8, a resto-bar on St-Denis, offers a menu that is free of the most common 8 food allergens: fish and seafood, peanuts, nuts, sesame seeds, milk (dairy products in general), soy, eggs and wheat or any grain containing gluten. What's left then, you might ask? Although the menu is quite limited, it is not lacking: there is a great selection of chicken, lamb and steak options; gluten free pasta, which tastes a lot better than it sounds, trust me; and a variety of sandwiches and appetizers. Vegetarians and vegans who wish to dine at Zero8 do not need to worry, since the restaurant offers various vegetarian and vegan dishes as well.
When it comes to delicious pastries and sweets Monkland's Cho'Cola is "Montreal's finest Nut & Peanut-free Bakeshop". All of their pastries are homemade and made with real butter. They offer a great selection of cakes, chocolates, brownies and cupcakes (cupcake flavors vary from day to day). Price points for the pastries will vary (usually cupcakes range from $2.50 to $3.00) but specialty pastry shops are notorious for steep prices.
Healthy eating can be easy, fun and inexpensive if you know where to eat. Dawson's own Student Union offers delicious free vegetarian lunches every Monday and Wednesday as of 12, if you are interested in taking a healthy step towards being more conscious about what you eat. Healthy eating does become an obstacle especially if you are a student on a tight budget and just happen to go to a school next to a mall with a huge food court. A healthy mind in a healthy body may seem like timeworn cliché but there is a great amount of truth to it. We should all try, with a little bit more enthusiasm, to eat healthy, since it is the choices we make now that will undoubtedly affect and shape our future selves.