Girl Model
A candid talk on girl models by a one time girl model this Wednesday, Feb. 13 at 4pm raises issues in several disciplines: History, child labour is not just yesterday, Sociology, sex trade, Psychology, what happens to the mental state of such girls, Economics, the financial forces driving the trade, Politics and more. S.P.A.C.E. presents this interdisciplinary talk as part of this year's focus, The Body.
The talk appeals to Dawson students who would like to know more about the origins of many such magazine and runway fashion girls. It raises the question of the practice of making girls into fashion models at such a young age. It raises questions about us.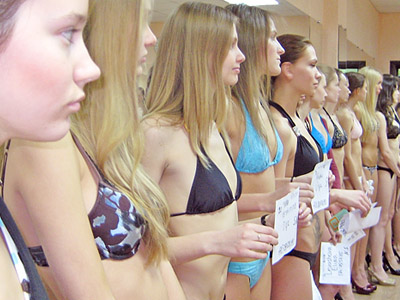 Fascinated by models? Want to be a model? Wonder what really happens behind the scenes of the model world? Come listen and participate in Montreal-born and based model Rachel Blais who discusses the documentary Girl Model. The movie, produced and directed by award-winning documentary filmmakers Ashley Sabin and David Redmon, encounters Rachel in the context of following the stories of two women in the complex world of international modeling. Rachel discusses the film that is seen through the eyes of a 13-year- old Siberian girl and the American scout who discovered her. Girl Model follows a complex global supply chain of young girls sent abroad to seek their fortunes in the unregulated and often murky world of the modeling industry.
Wednesday, Feb. 13 4pm –room 5B.16
Refreshments to be served.
Follow links to movie trailer, what New York Times and others have to say. Your comments on S.P.A.C.E. magazine are welcome. Sign up for more articles and talks by S.P.A.C.E.
www.girlmodelthemovie.com
Despite a lack of obvious similarities between Siberia and Tokyo, a thriving model industry connects these distant regions. GIRL MODEL follows two protagonists involved in this industry: Ashley, a deeply ambivalent model scout who scours the Siberian countryside looking for fresh faces to send to the Japanese market, and one of her discoveries, Nadya, a thirteen year-old plucked from the Siberian countryside and dropped into the center of Tokyo with promises of a profitable career. After Ashley's initial discovery of Nadya, the two rarely meet again, but their stories are inextricably bound. As Nadya's optimism about rescuing her family from their financial difficulties grows, her dreams contrast against Ashley's more jaded outlook about the industry's corrosive influence.
From the New York Times Review: "Dipping into a very specific corner of the modeling industry — the search for fresh Russian faces to feed the seemingly insatiable Japanese appetite for prepubescent-looking clotheshorses — David Redmon and Ashley Sabin's film presents an international transaction sustained by the twin forces of illusion and delusion."
From Slant Magazine: "Girl Model makes you wonder about every beautiful woman who's ever stared out from a publication, poster, or billboard, looking sophisticated and self-assured. Could the real person behind that image be a hungry, homesick 13-year-old who never got a dime for her work?"