Four Senses
Illustrated by Sarah Rosenberg
It is so dark I almost think I see light, something small and dim in the distance, but with a blink the candle in my imagination flickers out. It's the kind of darkness that the creatures from my childhood closet dwelt in. Utter sensory depravation—that's the point.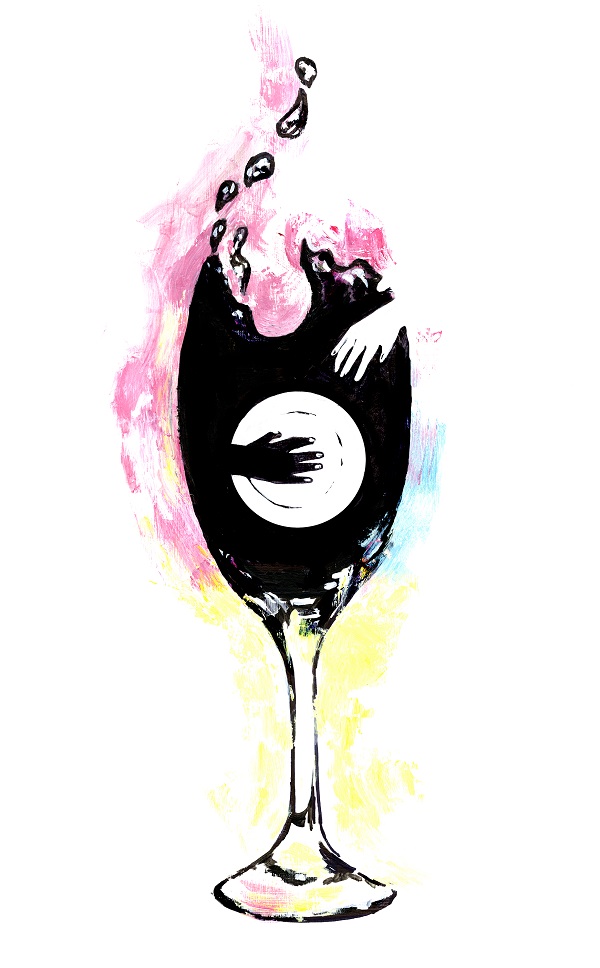 The volume is cranked way up. A voice from across the room suddenly seems to be laughing in my ear. People shout across the invisible table at each other two feet away, or maybe it's two miles. The illusion of a great black distance creates a sort of umbilical connection. We are all floating in our own amniotic fluid, yet tied down, attached—innately in love with that which contains us.

Glasses clink. Reaching for a utensil, my fingers find the butter plate. I lick them with abandon. This is the singular best place for a date, ever. The mystery of it all, the company of another human being making up for a lack of sense… isn't that always the case? Sitting side by side instead of facing each other (less accident prone this way), I feel his warmth and bulk beside me. Just as I've licked my last finger, not knowing if my eyes are closed or open, I feel cold, indescribable pinpricks on my face. They're like everything and nothing I've ever felt, all my hairs standing alert. His playful laugher cuts through the adrenaline before I can deduct what has happened; he's dipped his fingers into a glass and flicked water at me. What a rush.

The body beside me jumps as a voice abruptly announces itself above the buzz. It's the blind waitress, bringing us our dinner plates. I hear the plate set down and my hand is in hers, my fingers suddenly guided to the meal. Her hands are warm and creased and smooth. The unhesitant touch lingers on my skin long after she leaves, making me realize the lack of intimacy between strangers in the starkly lit world. After her touch is gone, there's a silence between my date and I, unsure of her presence.

"She was nice," he says.

"Thank you, thank you!" The reply behind his shoulder. It's a cause of laughter for the rest of the evening.

Food is an entirely different entity in the dark. Eating is the Olympics. I have ordered the "mystery plate," he the veal and veggies, but I cannot for the life of me get a forkful of mystery into my mouth. I stab blindly until I spear something. I lift the utensil, feeling the heft of food on its prongs, guiding it up towards the general direction of my face. By the time it has reached the anticipated destination, it is empty. Lift, anticipate, nothing. This dinner is becoming a metaphor for life. Lift, anticipate, some sort of vegetable stabs my cheek. I don't hear his fork scratching around in his plate, but he cannot possibly be having any better luck than I.

Now I know how cavemen discovered fire; the dark can prompt human beings into amazing feats of ingenuity. I discover that by pushing all my food into a mound in the middle of the plate, I can scoop it up much more effectively. I smile at the darkness and my good fortune; both mask how unsavory the mound of food on my plate must look and the gravy I just recently felt drip onto my blouse. I decide to let him in on my secret, thinking that the whole point of a "blind dinner" still contains the necessary concept of eating. To my contentment, he says my method actually works; I hear the sounds of content chewing.

"Mmmm," he moans. "Finally! What would I do without you? I was beginning to doubt this whole "blind" thing, but only 'cause of the empty stomach.

"Somehow his voice—rich, disembodied—radiates through me, inspiring an odd confidence. Setting down my fork, I lightly run my fingers over the tabletop; the soft cotton of the tablecloth, the papery napkin and unused utensils, the chill of the perspiring water glass, his fleshy arm. His sleeves have been rolled up, and under the unanticipated touch, I feel gooseflesh rise. I move down his forearm and to his hands to find… a piece of veal between his fingers. My laughter dances around us, probably catching the ear of someone across the room. I wonder if he's a blusher.

"Damn, you caught me cheating. I'm usually more civilized, I swear," he says lightly.

I raise my hand into the unseeing void, brushing his shoulder accidentally, before reaching his cheek. They are flaming hot despite the steady voice; I imagine the pomegranate stain of color. Everything is so vivid in the dark. Then I find his hand before he can drop the meat and guide it towards his mouth. What might not seem like a particularliy sensual act, is. My breath quickens as my nerve slowly begins curling around the edges like a burnt piece of paper. His lips brush my skin as I feed him. He nips my finger playfully, and for a split second I feel his tongue flick my onion paper skin. Stars shoot through me, fireworks in the dark, a longing embedded deep in my stomach stirring; such a concentrated sensation spreads fast, like too much wine.

Or panic. I feel as if I'm wearing the rich blackness around me like a gown, pulling him in, justifying a touch. But then at the stroke of midnight, or when we step into the candle-lit foyer to pay, whichever comes first—

A heavy hand comes to rest so naturally on the back of my neck, startling me.

"Do I make you jumpy?" asks the disembodied voice with a hint of satisfaction.

"Not at all," I reply, trying to play coy.

"I should," he murmurs as a sudden sweetness overcomes my lips—no, not a kiss. Sticky vanilla frosting smeared across my face from cheek to cheek.

"I thought you'd like to be the first to taste dessert."

Or maybe sensory overload is the point.
Further reading:

Indulge your four senses -- http://www.onoir.com