Disposable
Illustrated by VICTORIA DI WOO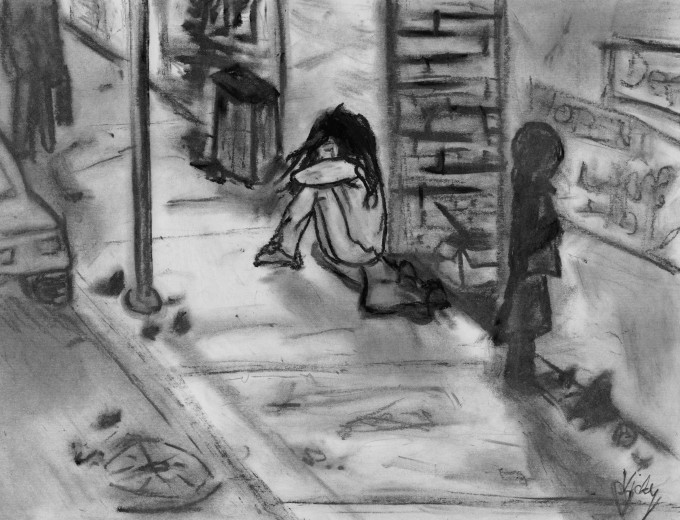 Grimy squalor. An acrid smell. Dirty faces, tired bodies covered with layers of lumpy, wet, old, ripped clothes. A back alley. Filth for mattresses and sad walls. Lice and roaches. 27 cents. A broken soul who fled a broken home only to end up on cracked pavement. Some would say circumstances, others, destiny. She says nothing. A weary spirit who's forgotten the very sound of its own laughter.
Every now and then bits of her old life come back to her. Clear memories she'd rather destroy. His forty year old genitalia in her eight year old mouth. His whip on her back. Her whimpers and cries. Her alcoholic mother's beatings. The drive by shooting that left her brother dead and her completely exposed to the two adults.
Her brother didn't know what was going on because every time he was there, they pretended to be model parents. They knew he wouldn't hesitate to kill them if he found out what they did to her. Plus, he gave them money. They knew better than to bite the hand that fed them. Especially when the other hand was holding a gun.
But then he died. That night, her foster dad raped her. That's when she decided she had to run if she wanted to live.
She was 17 now. She went from that house to the streets, to a whorehouse, a crack house and back to the streets. People pass by. They don't see her. That body she tried to sell and drug to numb the pain isn't worth much more than the disposable trash bags lying all around her. They have things to do, places to be.
A tall man in a suit passes by. Well groomed, broad shoulders, a walking billboard. Next to him is a woman. As tall as he, long perfect legs, long brown hair. Perfect bodies, she thinks. Maybe if I looked like that, maybe if I were taller, prettier, I wouldn't be here she thought. Maybe that's why prostitution hasn't worked for her, her body isn't desirable enough. Disposable.
She sat there, in despair while others walk by. A dog sniffs her bare, right foot. She tries to smile. The owner sees her, pulls the leash and scurries off quickly with a disgusted look. She wants to die, but she also wants to live. She wants to start over, with better odds at success, love and happiness. A chance at being part of a real family, not a 15 year old rape victim's offspring that's been given up to foster care.
She wants to shower. Soap and water would be nice right now. And food. And a roof over her head. So much for living in one of the world's richest countries. Doesn't stop perverted souls from causing and spreading misery. Doesn't change much for the poorest of the poor.
Maybe she should jump off the bridge. Cleanse her body and soul. Who knows, with a little luck be saved and given a better shot at life. Or maybe die and end up someplace better beyond the clouds and skies. Or maybe even turn into stardust, form constellations and shine bright for those children who wish upon stars like she did on her worst nights at home. Or rest. Leave this madness and be at peace wherever. Leave this suffocating heaviness that followed her everywhere her whole life. Yes. Just close her eyes and rest.
It was only a week later when the owner of the small liquor store near her alley called the cops to complain about the foul smell coming from the homeless girl, that her lifeless, rotting body was discovered. Falling leaves on the concrete, an endless sleep.
For seven days people walked past her, looking but not seeing. For seven days her body lay there on the pavement and people walked on. Perhaps even I had walked by at one point, not noticing the tragedy resting at my feet, against the wall.
Her story might never be known. Her death will be forgotten in a few hours. We all have someplace to be, something to do. But what will happen to that innocent body? Would it be cremated or buried? Will she have a tombstone, or will her ashes be spread in the sea? She could've been a successful pianist, but was nothing but a failed abortion. The result of the violation of an innocent body and suffered the same, with extra beatings.
Flesh and bone, abused and disposed of.