Dawson Speaks
http://www.youtube.com/watch?v=JBXw52TXJO0
The linguist Dan Slobin once said that "Human languages are like human faces", capturing nicely the idea that, underneath obvious and sometimes striking surface differences, both human faces and human languages share deep common structures. For instance, all human faces share the same overall characteristics: eyes, a nose, cheek bones, a mouth …….. – yet every face looks different!
Languages can be viewed the same way: on the surface they may seem and sound completely different, but they all share underlying characteristics that make them part of the same –human- communication system….
Everyone who has spent even a few days at Dawson knows that it is a wonderfully diverse environment, where many languages and cultures happily co-exist. One only has to take a walk around the Atwater campus, and will hear speech sounds in patterns that are often immediately recognizable (" they're speaking Spanish"), but at times sound totally unfamiliar ("what language is that?").
In Fall 2012, the Languages Profile set out to compile a list of languages and language varieties spoken by Dawson students, faculty, and staff – what we called Project DawsonSpeaks. Discovering languages, however, was only part of what we wanted to do. Our goal was also to show the human face of every language and for every language to tell a story.
The result is a collection of personal love stories with language – a deeply moving account of how much language defines us and lives within us, no matter what the distance (in kilometres, years, generations or experiences) that separates us from it. The deep underlying connections that echo through these stories make us forget the "superficial" differences that separate, say, Italian from Mandarin – not to mention their speakers. Instead, we can't help but focus on what we all have in common, what we hold precious, what makes us human.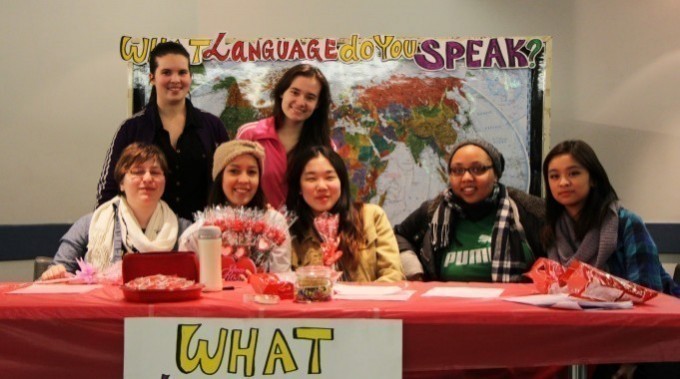 Needless to say, this idea would have remained in the realm of speculation without the work of a group of dedicated Languages Profile students, who agreed to embark on this project from the first moment the idea was proposed to them. Thankfully, we were joined by a talented team of CinVidCom students who have been photographing our participants, editing, and designing our website for weeks, as well as a student from Illustration & Design, who created our posters. Special thanks to them and their instructors – Phil Vitone from CinVidCom, and Pauline Fresco from Illustration & Design, for sharing them with us. This project is truly the result of a very complex, but wonderfully smooth collaboration, and an example of what can happen when teamwork really works!
The Office of the Dean of Creative and Applied Arts and the Office of Instructional Development were behind us every step of the way - not only by providing the necessary funds for the project, but also by showing us their wholehearted support from the start. Special heartfelt thanks to Andrea Cole, Wolfgang Krotter, Barbara Freeman, and Tina Romeo!
Most of all, however, a big, warm THANK YOU to all of you, members of the Dawson Community –teachers, students, staff - for answering our relentless questions, responding to our countless e-mails, allowing us to photograph you, and for sharing your feelings, stories, memories, words; in short, yourself! This project was made possible thanks to you, and it is dedicated to you and our incredibly rich, diverse, human community!
Visit the WEbsite: http://dawsonspeaks.com/