Blissful Hilarity: Hay Fever
Bring out your feather boas, elaborate head-dresses, fringy flapper dresses and come down to Dawson Theatre for its wonderful new production: Hay Fever by Noel Coward. The show opened on April 18th, and is presented by the third year students of the Dawson theatre program.
The play centers around a very British, and very eccentric family: that of retired actress Judith Bliss. The family is composed of: Sorel, the daughter intent on "bettering herself;" Simon, the son and adoring artist; David, the husband and rigid novelist; and, naturally, Judith herself. All four invite a different guest who tickles their fancy for the weekend, and melodramatic drama ensues for the Blisses. The whole production is a wonderful comedy of manners and a situation that oozes charm: I found myself with aching ribs by the end of the evening from laughter.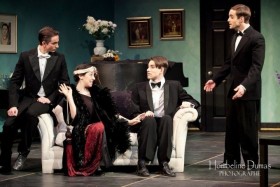 Hay Fever is a brilliant comedy that truly delights the mind, and despite being set in the English countryside and entirely in the Queen's English, the jokes and puns are witty and delightful, even for a modern audience. I even asked some of the French-speaking audience what they thought of the play, and they have stated that British accents were not an obstacle to the comedy at all (which is not always an easy feat), and they enjoyed the play as much as everyone else.
Like the previous plays of the season, Hay Fever is divided into two casts. However, I am pleased to say, both casts give absolutely stunning performances and are very well balanced. Chantale Demole, who plays Judith in both casts, is absolutely thrilling. She is wonderfully British, full of ridiculous affectation, and, frankly, reminds me of my British Aunt Charlotte – whom I find to be brilliant. Demole has taken to her character's eccentricity and mannerisms like a fish to water. Anton Golikov, also in both casts, is one of the best characters on stage: Clarence, the family's butler. He doles out the Michael Cain charm (and accent) like a natural, and brings great moments to the stage. I was gobsmacked when I was later told that Clarence was originally a female character; Golikov's performance is so riveting and convincing. Unfortunately, some actors seem to struggle a little with the British accent, but it does not deter from the comedy, or the characters themselves.
To top it all, the direction, by Winston Sutton, is absolutely marvelous: he has captured the awkward Britishness of the characters in a true tour de force. Also, the set and costumes enhance the whole play: feathers, eccentric headdresses, and pastel flapper gowns are all gorgeous. The ambiance is enriched by some fantastic 1920s music, which simply allows the stage to come to life in this British High Comedy (and makes the audience want to dance in their seats).
With all this, I can only come to one conclusion: in my opinion, Hay Fever is the best play that Dawson Theatre has brought to the stage this season. It is a lovely comedy that everyone and anyone can delight in, and both casts are so wonderful, I truly hope everyone will be tempted to see it twice! Believe me, darlings, it is absolutely worth it!
Judith Portelance is in her first year of the Dawson Professional Theatre Program.
Performance Dates
April 18-21 - 8:00 pm
April 26-28 - 8:00 pm
Matinée
Saturday, April 28 - 2:00 pm
Closing
Saturday, April 28 - 8:00 pm