ALICE IN WONDERLAND
Grownups and children alike are invited to lose themselves in a world both full of curiosity and teeming with absurdity on the stage of Dawson's New Dome Theatre. From January 29th to February 8th, the Dawson Professional Theatre Program presents Lewis Carroll's classic tale, Alice in Wonderland, adapted for the stage by Peter Hinton. Jude Beny, director and the department's very own chairperson, guides the third year, graduating students down the rabbit hole and into a Wonderland filled with music by Allen Cole.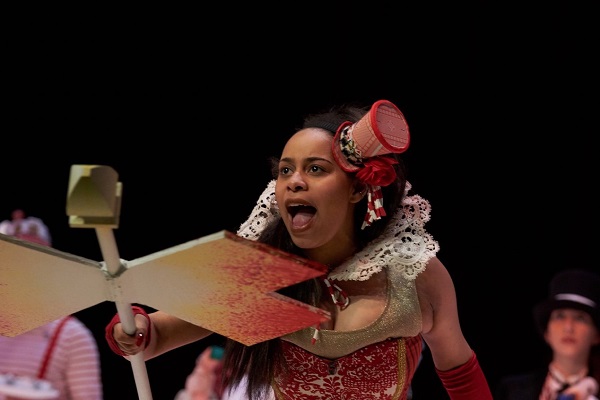 Through flashes of reality, fantasy, and strangely familiar faces, it is clear that our young Alice is just as confused by the fabricated world around her—where she, herself, defies the laws of science and rational thought—as with the very real one she lives in. The sudden pull of adolescence seems rushed, scary and much too serious.
Set designer Sabrina Miller created a moveable set to reflect the internal and external changes Alice goes through in Wonderland. "The set is manipulated by the actors to create the illusion of Alice growing and shrinking," Miller says. Miller incorporated geometric shapes into the design because she was influenced by Charles Dodgson's (Lewis Carroll) career as a mathematician. "I am very happy that Jude Beny liked my interpretation because the script called for a lot of projections, but I much prefer the kind of theatre magic that you can only experience with performers. After all, this is theatre, not the movies," Miller said.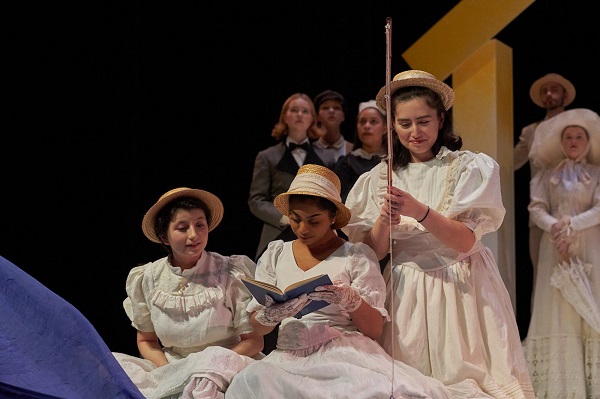 Music, lights, costumes, and stage effects all come together to bring a unique, Dawson take on an infamous story. A timeless tale that seems to get "curiouser and curiouser" with every version, Alice in Wonderland tells the story of a young girl whose own thoughts get a little too tied up with her imagination. Real life and dreams meet somewhere in the middle as the audience watches her journey through a place that prompts her to search for the answer to a question that has suddenly become very important: Who are you?
"I have always held a great belief in the power of theatre to transform our experience by giving us a perspective on the confusing and complex world around us."
Peter Hinton