Troubling SPACE S: In Search of Secret Knowledge
Illustrated by Alessandro Ferraro
The essays in this feature were written for the Reflections seminar "In Search of Secret Knowledge," a paired English 101 and Humanities 101 course taught by Kristopher Woofter and Gregory Polakoff. The core of the seminar focused on representations of the quest for insight and transcendence in religion, philosophy, literature, and film. Our subjects ranged from Gnosticism to Nietzschean nihilism, occult(ed) knowledge, and explorations of radical otherness in the horror, science-fiction, and Weird aesthetic traditions.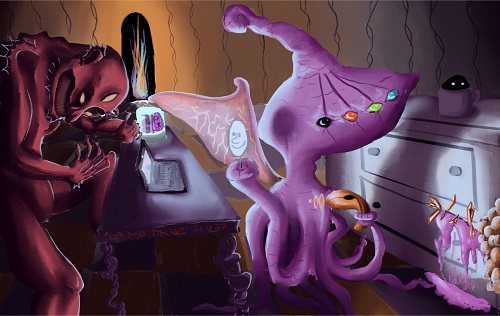 The knowledge-seekers in the texts we encountered were concerned with frontiers and boundary crossings—those spaces leading to confrontations with ineffable experience, radical otherness, uncanny eruptions, hybridity, ambiguity, and physical or mental transformation. The student essays in this feature take the intrepid reader into such productive, interstitial space(s).
A significant interest in these student explorations is the burning curiosity that gets knowledge-seekers into troubling and troubled spaces, such as the cosmic environments of Stanislaw Lem's Solaris (1961), Stanley Kubrick's 2001: A Space Odyssey (1968), and Fred McLeod Wilcox's Forbidden Planet (1956). Other explorations of extreme spaces come in the confrontation with the alien or radical other in Shirley Jackson's 1959 novel The Haunting of Hill House, Thomas Ligotti's bleak, nihilistic stories "The Shadow at the Bottom of the World" and "Vastarien," and David Cronenberg's mind-(and-body-)bending Videodrome (1983). The essays herein reveal a shared dynamic in these very different works: one that pits the hoped-for achievement of transcendence and gnostic insight, against the fearful disillusionment and degeneration of mind and body that come with confrontations with extreme experience. Among the conclusions these writers will put to the test is the fear that the most radically "other" thing humanity has to be afraid of are the "alien" recesses of the human mind—particularly its "uncivilized" capacity for violence, arrogance, and antipathy in the name of progress.
— Kristopher Woofter
Contents
Part I: Us and Them—Uncanny Monsters and Human Desire
1. "The Primitive Self as Inescapable Monster in Solaris, Forbidden Planet, and 'The Shadow at the Bottom of the World'" by Shawn Maor
2. "Buried Desires and 'Alien' Forms: A Psychoanalytical Reading of Solaris's Kris Kelvin, The Haunting of Hill House's Eleanor Vance and Forbidden Planet's Dr. Morbius" by Arielle Cohen
3. "Uncanny Spectacle as a Catalyst for Gnosis in The Haunting of Hill House, Solaris and Videodrome" by Tumaï Georges
Part II: Us vs. Them—Radical Alterity Meets Imprisoning Perspectivism
4. "Integrating the Alien in Forbidden Planet, Solaris and 2001: A Space Odyssey" by Alessandro Ferraro
5. "Dreams, Visions and Delusions in Solaris, Videodrome and 'Vastarien'" by Erika Makarenko
6. "Space Exploration and Gnostic Insight in 2001: A Space Odyssey, Forbidden Planet and Solaris" by Alexandru Cebotari