Ripped in the Tide
The current out from under
The sailor tending the boat and watching the
bolstering waves crash into foam
The bubbles of a cracked open can
The waves of ethanol in the red bucket
A sailor's father who was always drowning in it
The grandfather too
Never emptied his liquid to seek sobriety
Never bereft of inebriation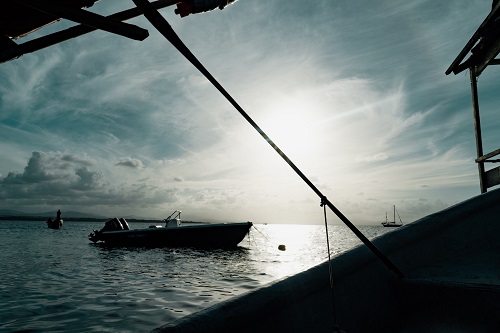 The scaled tail of the aquatic creature
burrowing beneath the depths of sand
Her hands familiar with the prickling penetration of coral,
the shedding of her parents cracked
open like salt packets on the reef
Upfront, out from under
She was holding her mother in the oyster
Her mother screamed and howled
cried and sobbed for a motor to shackle her insides and
to be buried in the abandoned ship
Marking her in youth, already
familiarized with that ounce of despair
An octopus at infancy
polishing the pearl to replenish the shatter
when the father found agony and chucked it
The fragility cracked from his tentacle
could no longer find traction in holding his baby
mollusk.
Passing it down
Passing it on
The current
the young one instead responsible for the father's
shatters
The lighthouse which once brightly shone overhead
succumbed to one of withering prosperity
when the lightkeeper unplugged,
stone meeting dusk.
The floorboard creaked with a whimper
as he perished in the vicinity.
And the current,
the next in line,
the lightkeeper's son
tending it all and bombarded by the
floorboard whimpers to mark the
departure, his solitude.
The current
Out from under
The riptide which wrecks
If only the waves wouldn't
crash down to spark
hazardous fibres and
devour the generations. If only
the reefs and the fins weren't intertwined
with troubling ancestry
The foam that is held in the
strains of DNA
passing through and through
Out from under and
buried deep within each one's
view of the tumultuous tide.
Photo by Aljoscha Laschgari on Unsplash