Four Seasons 2020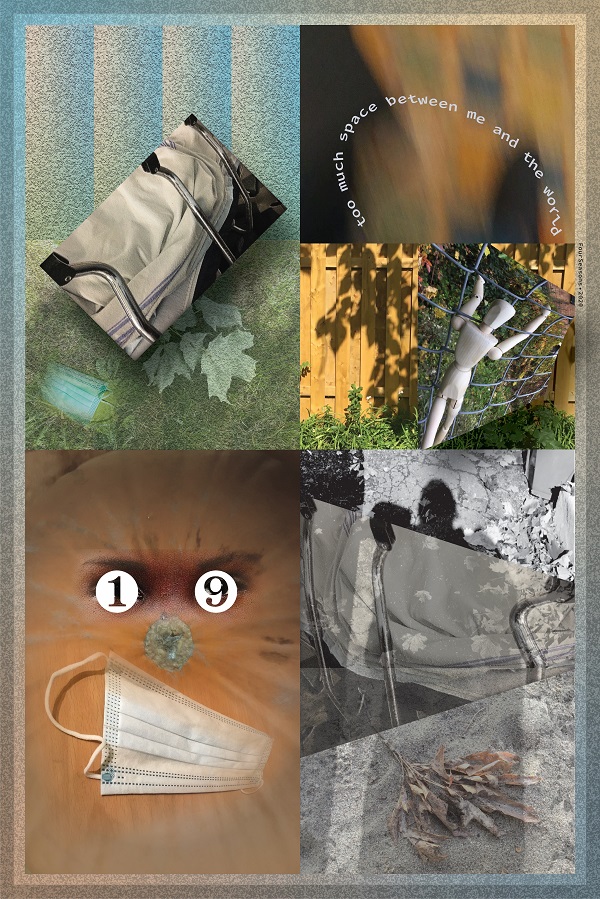 We find ourselves in a land of four spaces:
spring, summer, autumn and winter.
Spring brought forth life… and death.
This season's embryonic greenery is contraband to my soul.
Quarantined in ICU, where once verdant fronds grow desiccated.
I am breathless.
Passerine serenades grow silent through my locked-down windows.
Smiles and fears are cloaked with folds.
Only eyes are free to peek over their veils of protection.
Summer Update: Criminal activity of a social kind.
Parks are closed…barricaded like CSI crime scenes.
Shadows of verdant leaves pirouette on brightly colored fences while
I scream silently, "Too much space between me and the world!"
Autumn's meager harvest is showcased on sparce supermarket shelves.
Such vain attempts to conceal the emptiness
by spreading out the merchandise one row deep.
COVID-19 VR eyeglasses are the new normal
for blurred vision across our pandemically plagued planet.
Rose-coloured glasses are sold out, but be assured that
facial masks of every hue are in stock and ready to ship.
Winter's ashen contours, wind-blown leaves, and memories of confinement
haunt the shortened days and chilly nights.
Living the same day, over and over again… in isolation.
Mournfully, the cycle begins once more
as lockdown's shrill melodies
welcome twenty-twenty-one.