RECLAIMING OUR SCHOOL, ONE PLANT AT A TIME
It is a cool September morning, and the whisperings of the wind are joined by the murmur of bees, the humming of leaves, as if all singing in harmony about community, resilience and peace.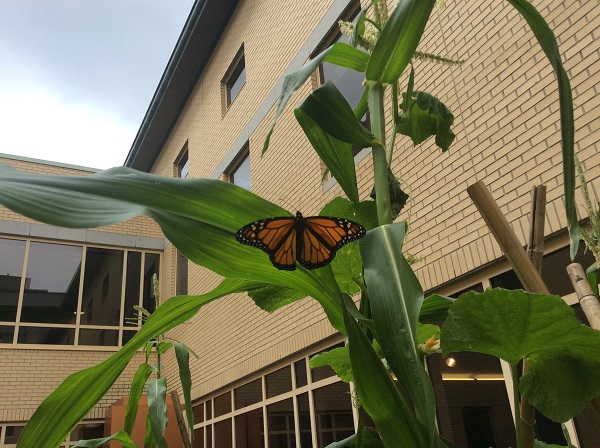 I am standing in the Dawson College Peace Garden, a haven of greenery in the midst of the concrete jungle that is downtown Montreal, or Tiohtià:ke in the Mohawk language. Here, on the front lawn of the College, with cars passing by just on the other side of the fence, the plants, even the weeds, "appear to have been sown upon the Earth in the same profusion [as] stars", as philosopher Jean-Jacques Rousseau wrote many centuries ago. At a handful of nearby picnic tables, students have migrated from the hallways of the College in order to take in a few moments of fresh air, rest and reflection.
Next to me, leading me on a tour of the garden, is Jennifer de Vera, anchor of the Sustainable Dawson movement. "We consider ourselves a living campus," de Vera explains, "because of all the nature and the biodiversity that we have. Our motto is 'Reconnecting people, community, and nature.' Any project that we do, whether it's the monarch butterflies or the planting of the Ginkgo trees, brings the community together."
For Peace Week, she tells me, the garden hosts classes from diverse disciplines, such as psychology, physical education, art, and photography. Even the kids from the Dawson daycare come out to smell the flowers almost every day, jumping from rock to rock and naming each species with an adorable lisp. Not only Dawson students and staff members enjoy these green spaces, either; not a day goes by without a woman from the community weeding in the garden just because she misses the one she used to have in the suburbs, or without a man who works in a downtown office taking a walk during his lunch break to unwind before going back to his hectic lifestyle. "We also try our best to give every volunteer a mini-lesson about the plants so that they'll leave knowing something new. It's nice to share the knowledge with people who sometimes have never had a garden in their lives." An educational experience in itself, the garden becomes an extension of Dawson's academic environment.
For students who not only find refuge here but also contribute their time to help grow this space, the garden offers them a way to reclaim a corner of their school as their own, to turn it into a place that sustains them and others. "Dawson College is a heritage building," de Vera informs me, "which often includes a lot of restrictions and regulations to follow. A way of taking back our school is by adopting greenspaces as much as we can!" After the very sudden end to our academic year due to the coronavirus pandemic, we, the students, can assert some measure of control in our lives through volunteering in the garden.
My guide then takes me around to the Three Sisters garden, sprouting up out of wooden boxes of earth laid along the ground in the Conrod's Courtyard. The Oldest sister stands tall and brave in her husk, rising on her stalk to a beautiful stature, while taking the Middle sister in her arms, like a mother to a child. At her feet, the Baby sister crawls like a new-born, helping the soil stay rich and smooth, and looking up at the sky to see her family united. "We're situated in Mohawk territory and we wanted to honour that," says de Vera. "We did not want to erect a statue or put a sign; to us, it was logical to include a long tradition of agriculture on these soils."
The harvesting of corn, along with beans and squash, is only a small part of Mohawk culture, and far from the only activity that takes part in these gardens. "When I tell people I went picking beans or harvesting vegetables, they always think I work on a farm," she says with a spark of wit in her eyes. What a surprise it is to them when she says she works in downtown Montreal! In the middle of this garden, more joyful student volunteers gather round to look at the day's harvest: cucumbers swollen with waters and minerals; a small carrot with gorgeous long green hair; and some dill with its anise-like flavour. We can find many other vegetables and plants in these agricultural gardens, such as tomatoes, kale, peppers, and mint, along with marigold—used as natural pesticides. "This year, we donated to two separate food banks–Resilience and Innovation Jeunesse—and donated to the Dawson community by simply walking around campus and giving part of the harvest to the staff members who would pass by."
The Peace Garden and Three Sisters Garden were Dawson's response to the violent events that took place in the halls of the College in 2006. The need to mourn, and to grow from that sorrowful incident, resonated with the original planners of the gardens. "They didn't want to add metal detectors, nor hire more security," emphasizes de Vera. "What could we do instead? With the help of CRLT, the Community Recreation and Leadership Training program, we managed to fundraise and start the garden as a symbol of peace and hope." Dawson created the Peace Garden to honour Anastasia's memory, and just like the young man who emerged from the crowd of demonstrators and started placing carnations into the barrels of rifles of soldiers in 1967, we planted a tree which blossoms each spring into pink-coloured petals, blushing the same way a young girl blushes, softly.
As Rousseau wrote, "plants [unlike stars] are naturally within our reach, they spring up under our feet, and even in our hands"; they are tangible and will hold your hand the same way a friend does; they breathe the same way a lover breathes; they whisper the same way a confidante whispers. A piece of the sky can now be found in Dawson's Peace Garden.
Photo credit: Jennifer de Vera