Doubles
There's delicious food all over the world, and it's one of the reasons why so many people love to travel. Italy has pizzas and pastas; France has croissants and fromage, Spain has patatas bravas and paellas. But to me, the best food is from Trinidad and Tobago. (But I have to admit I'm a bit biased).
The twin islands are a lush, green place with friendly people and a vibrant atmosphere. I remember growing up and thinking it looked almost like Jurassic Park in the rural areas, whereas the cities were the most exciting and lit-up places at night. The popular myth that people in the Caribbean go to the beach every day and live in huts is a long-time running joke among us, but when we do go to the beach, it's a big event, and half the family (even the ones you didn't know were related to) go with you to enjoy the day. A sacred ritual performed by everyone at the beach is to sacrifice one of our towels to the sea god as a sign of respect. Just kidding. The ritual is to bring either home-cooked food or boxes of KFC, and a cooler filled with drinks for everyone. No matter what the occasion, food is a central concern on these islands.
Growing up in Trinidad and Tobago, you are no stranger to the world of spices and flavours.Walk two minutes in any direction and there are ten food stands and three billboards advertising the newest dishes being served at restaurants. You can drive five minutes from your house to buy a pack of batteries at the store, and you'll come back with two bottles of juice, a pack of Big Foot snack, a box of pholourie, two bags of kurma and possibly the pack of batteries if you remembered to get them. After school, a common tradition is to round up your friends and walk to the nearest pie-man, who sells the best pies and snow cones in a little stand. At every family event, there are a blend of foods in all different colours and textures – a scene depicting the multitude of cultures celebrated in Trinidad and Tobago. The table is spread with food from Indian, French, Spanish, Chinese, Syrian, African and South American influence. That range of cuisines is one of the best parts of growing up there.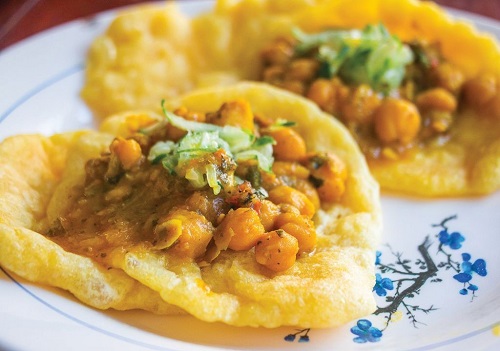 However, out of all the delicious, mouth-watering and colourful foods found on the twin-islands, the one which we are most proud of, and which you see most frequently, is Doubles. Doubles really are a sight for sore eyes. Picture a spoonful of channa (internationally known as chickpeas) cooked in all the spices known to man and soaked in steaming fresh sauce, topped with a sprinkle of grated cucumber skin, and everything resting on the fluffiest piece of dough you can think of with sweet tamarind sauce dripping off the side and pepper sauce as an option. (Well – they say it's an option, but even if you ask for Doubles "without pepper" you will still receive them with pepper; it's simply mandatory.) No poetic or restaurant-like description could ever do Doubles justice. It's more than just food – it's an entire experience.
My best memories of growing up all revolve around Doubles in some way. (It sounds obsessive, but I'll explain.) Saturdays weren't only the markers of the weekend's start; they were also the days our parents brought home Doubles. I would set my alarm for 9 a.m. every Saturday so I could wake up just in time for when my parents pulled into the driveway with the freshly bought doubles in the back seat, the reason for this being that cold Doubles and re-heated Doubles just don't taste the same. For the full experience, I needed to eat them fresh. I would turn on the morning cartoons with two Doubles in my lap and a glass of milk to wash down the non-optional addition of pepper. Not only on Saturdays, but even after school when everybody was hungry, we would walk to the food stands at the side of the neighbouring street to the crowded Doubles stand, where the Doubles man would assemble a Doubles for everyone and wrap it in wax paper in under ten seconds (I timed it once it's actually unbelievable.) The line would be filled with all different types of people – teenagers in green and white school uniforms, office workers in formal suits with briefcases, little children in their school overalls, nurses still in their scrubs, and teachers in their ties. No matter if you know the person next to you or not or if you are introverted or extroverted, everybody talks to everybody else in the line as if we had attended each other's weddings. And as the smell of the freshly cooked channa and spices stains the air, for a moment in time, everybody is happy.
My first ever experience with actually making Doubles was during the pandemic. I had gone to visit my grandmother's house as I usually do on Fridays. As soon as I walked in the wooden door into the kitchen, a familiar scent hit my nose. At the side of the stove were two steel pots and a wooden spoon, and an array of spices were spread out on the kitchen counter as though lined up for battle. As soon as I took in the sight, I knew what was happening – my grandmother was about to make Doubles.
My grandmother has always been in love with food and regularly spends her time cooking her favourite dishes. This time, she allowed me to join her in making the Doubles. The first thing we did was chop the seasoning: garlic, chadon beni (cilantro), pimento peppers, chive and geera (cumin). All of these plus a bit of curry powder and turmeric were added to a pot of channa cooking and bubbling on the stove. We allowed the colourful mixture to sit and soak up the seasoning. Meanwhile we prepared the bara (dough used in Doubles). My grandmother had prepared the bara the night before and allowed it to rise overnight, so all we had to do now was shape it. As the tasty scents filled the kitchen, we took pieces of dough in fist-sized amounts and stretched out the pieces as much as we could to create the dough which the channa would sit on. We then took the pieces of dough and fried them. With her stern commando-voice, my grandmother instructed me to "fry it in deep oil for only a few seconds on each side because you want it to remain soft."
After only thirty minutes, the Doubles were complete. My grandmother and I assembled our Doubles in the kitchen, pouring the channa onto the hot, fried bara and topping everything with some grated cucumber, tamarind sauce, chadon beni sauce and pepper. The rest of the evening was spent on her porch, munching away at the fresh dish as the dog rushed to pick up any stray crumb that found its way to the floor. The aromas of garlic, geera and turmeric filled the air as the evening sun went down behind the mountains, and the cool night air picked up. Everything was perfect.
When you think about Doubles – it really isn't much. There's no large, fancy list of ingredients that you can't pronounce the names of. It's quite simple, but that's their appeal. But for something so tasty and popular, it must cost a lot, right? So how do we buy it so often? It's only $5 Trinidad and Tobago Dollars ($0.94 CAD). Not only is Doubles affordable, but it is a great meal due to its richness in taste. As stated by a local: "It's easy and quick to eat and it fills you fast."
It's the simplicity of it, the cheapness of it, matched with the burst of flavour and presentation of it that is such a large appeal to everybody. As expressed by another Trinidadian: "The combination of all those different ingredients creates a unique flavour that you cannot find anywhere else. You find the best Doubles in Trinidad".
Photo by author.