Cottagecore and Consequences
Illustrated by Coline Cadilhac
I eat my toast, peanut butter and banana for breakfast. I sit drinking my coffee and staring out my window. A neighbor smokes a cigarette, another works in his garden in his painted jeans.
My professor starts the Zoom class.
I see myself on the screen and notice that my hair looks horrible. I try to quickly put it up, but it still looks bad. I give up. Hopefully the people in my program accept me. I'll look better in person.
I'm making my way home from the pharmacy with a bottle of conditioner in my purse. The antique store is open, filled with ceramic cows, strawberry lamps and old rocking chairs. I would love to own more of these objects in my home, or even to buy a cottage because I have always dreamed of living full time in nature. I get home and type "cottagecore" into my Pinterest search-bar.
*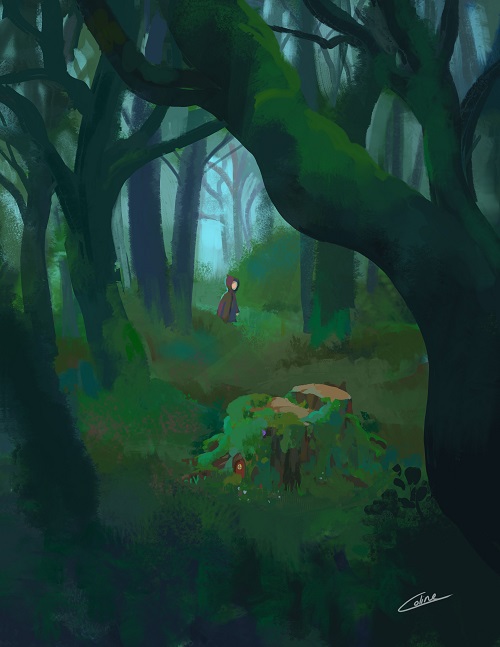 Eight days later, the decision has been made and my suitcase has been packed. I am leaving, going off the grid. Since last week, I have been putting my plan into place, buying flowy dresses, cute baskets and ceramic animals at the thrift store. I hope to meet others in the forest when I go, but if not, I have my books and their authors to hold my hand.
Sitting on the train to Mont-Saint-Hilaire, I look out the window as the city fades into suburbia, into fields. Since the pandemic, the city has lost all its original charm. I was trapped in a polluted, urban setting. Nature, however, is beautiful. Nature will permit me to live a peaceful life.
*
Eight hours since I got off the train, I'm being eaten by mosquitos. My stomach is grumbling. I can't feel my feet. Nature is beautiful, but this isn't a peaceful life. This life is achy, scratchy, hungry and cold. I tried to make myself a place to sleep, but ceramic cows and flowery dresses don't help me no matter how cottagecore they may be.
*
In my mom's car looking out the window, I see the fields move into suburbs, into the city.
"Do you want some water honey?" she asks.
I don't reply. I want to melt into the car seat and disappear. For the first time in my life, I feel embarrassed in front of my mom, the woman who changed my diapers.
Basically, my plan failed after only a couple hours. I could no longer take it so I ran out of the woods to car windows, asking drivers to let me borrow their phone. I do not look like a Pinterest cottagecore girl but a female Rip Van Winkle, ripped clothes and the whole deal.
I have to tell you, nature is beautiful, but for my life, the city keeps its charms: showers, takeout, lights and bars.