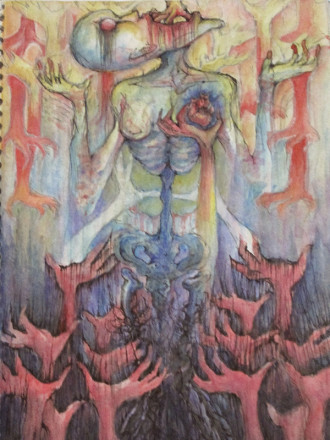 View exhibit
Kaia'tanoron Dumoulin Bush January 7, 2013
Tongue in Cheek
My sketches reflect the relationships shared between the physical self, mental states and the natural world. In these sketches, these relationships fluctuate between observations and the playful questioning of human and animal forms as spirits and creatures inspired by Inuit, Haida and Tlingit creation beliefs. The mouth also plays an important role in my sketches. The mouth is one of the most intimate parts of our bodies and is one of the most important orifices. We use it to breath, to eat, to speak and to love. Many of the sketches reflect this in that there are usually things going in or out of the mouth.
Kaia'tanoron Dumoulin Bush, 2012
Kaia'tanoron Dumoulin Bush

Kaia'tanoron has successfully completed the Fine Arts Program at Dawson College, and is currently expanding her skills in her first year as a student in the Illustration and Design program.