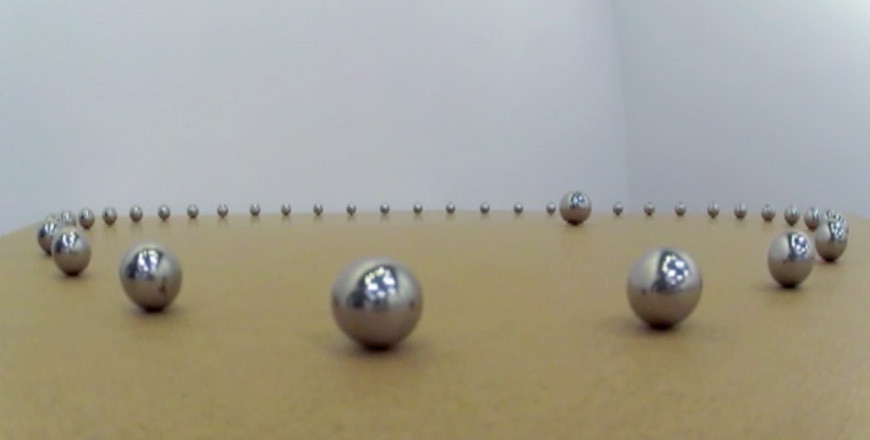 View exhibit
Juan L. Gomez-Perales February 12, 2014
Princess and the P
2013 / cross dimensional spatial transference
This kinetic piece can be seen in the Fine Arts Faculty Biennial 11 exhibition at Dawson College in the Warren G. Flowers Art Gallery. Grand opening: Thurs. Feb. 13, 2014 at 5:30 pm. Continues weekdays from 9:00 am to 9:00 pm until Mar. 6, 2014.
In the language of art we often refer to the "plasticity" of materials. It is with purposeful manipulation of the media that the artwork is ultimately formed. Combining aspects of general relativity with M-theory (a variant of string theory, which requires additional spatial dimensions) this artwork manipulates the plasticity of physical space in a close parallel universe. The piece makes use of gravitational spatial distortions (general relativity), caused by placed concentrations of mass, and their combined effect on a parallel 3-brane (3-dimensional universe), where the distortion-generating massive elements would be invisible. Since, in string theory, the graviton particle is a closed string and not bound to any brane (short for membrane, for the sake of discussion, a physical expression of a dimension), it is free to cross the bulk (the higher dimensional space between branes) and interact with other brane worlds, while the open strings associated with the various collections of massive particles are locked to our (3-brane) universe . The result would be that of subtle, choreographed, spatial distortions without the presence of the massive components that caused them. It should be clarified that what is presented in the gallery space (or in these images) is not the artwork itself, but rather that which is forming the artwork, theoretically existing in a parallel universe, and thereby invisible to us.
About Juan L. Gomez-Perales
Juan L. Gomez-Perales is an interdisciplinary artist whose current work relates to his interest in contemporary issues of theoretical physics and cosmology. He teaches in the Department of Fine Arts of Dawson College.