Patrick Shearing May 24, 2008
Exploring Spaces
In this exhibit Patrick Shearing is "Exploring Spaces".
Remnants of the irregular Gaspé coastline can be found in these complex line drawings. As with fractal geometry, the closer one looks at a coastline the more detail there is to be found. Each small piece will still have its own bays, harbours, and capes so that no shoreline can be measured with perfect precision. In a similar manner, Patrick does not attempt to measure with his lines, but rather to draw out the inherent complexity and irregularities in the objects he studies.
Much of the work exhibited here is constructed with a minimum number of lines as Patrick traces out his observations in a continuous way, maintaining constant contact with the page. In also imagining abstract spaces a fresh perspective is achieved as all the work points to details seen only in the mind of the artist.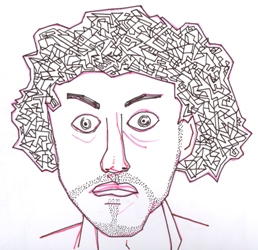 Recent work: Minimal cubist murals and complex line drawings.
Mediums: Ink, clay, wood, marker, pastel, and pencil.
Views on art: Art is the process of excavating one's innermost thoughts and transmitting them through some kind of manual dexterity. It is a form of exhibition and a means of communicating with yourself.
About the Artist
Patrick Shearing currently lives in Montreal's St. Henri district but grew up along the rocky coastline of the Gaspésie. He is a graduate of Dawson's Visual Arts program with wide ranging interests that straddle the arts and sciences.