Frank Mulvey May 8, 2013
Back to the Future: Letterhead Design of the 1960s
In early 2013, I took some time to go through a batch of my late father's possessions. Among the myriad boxes and portfolios of material, there was a non-descript box. Inside the small volume of this box was a beautiful cosmos of 1960s graphic design. Letters from such luminaries as Leslie Beal, Paul Rand and Ladislav Sutnar had been filed away, along with hundreds of other cover letters responding to my father's request for design material for teaching purposes, all on company stationery with letterheads. The respondents range from widely recognized veterans of the graphic design industry to young designers just beginning to make their mark, such as Archie Boston, who was 25 years old at the time and came to be known for his provocative work and social consciousness in graphic design and advertisement.
The cover letters were the by-product of my father Frank R. Mulvey's Graphic Research Library endeavour when he taught at Penn State, Townson College and Sir George Williams Universities. Through time, most of the design material accumulated by my father has been donated to various institutions. However, the letters remain, and these items form the content of this exhibition. When I fully realized the importance of this collection, and that 50 years had passed since the inception of the College of Arts and Architecture at Penn State, I felt strongly that the letters, each with its own letterhead, should see the light of day again. The exhibition catalogue appears in print and on the Internet (click on the green "Enter the Exhibit" button to see the catalogue), with an essay written by George Vaikunas from the Graphic Design Department of Dawson College. Four highly respected designers whose work is represented in this project have been contacted, and they have each contributed insights into their letterhead designs. These four individuals are Archie Boston, Seymour Chwast, Tom Geismar and Milton Glaser. The catalogue is illustrated with reproductions of selected letterhead designs, including macro photography to bring out beautiful details of paper quality and typography. It is noteworthy to mention that this exhibition marks fifty years since the inception of the College of Arts and Architecture at The Pennsylvania State University where Assistant Professor Frank R. Mulvey worked as a teacher.
The purpose of this exhibition at the Warren G. Flowers Art Gallery of Dawson College is in keeping with my father's original objective: fascinating examples of design should be seen in order to inform and inspire students, academics and practitioners.
Frank A. Mulvey
S.P.A.C.E. coordinator and exhibition curator, Department of Illustration & Design, Department of Fine Arts, Dawson College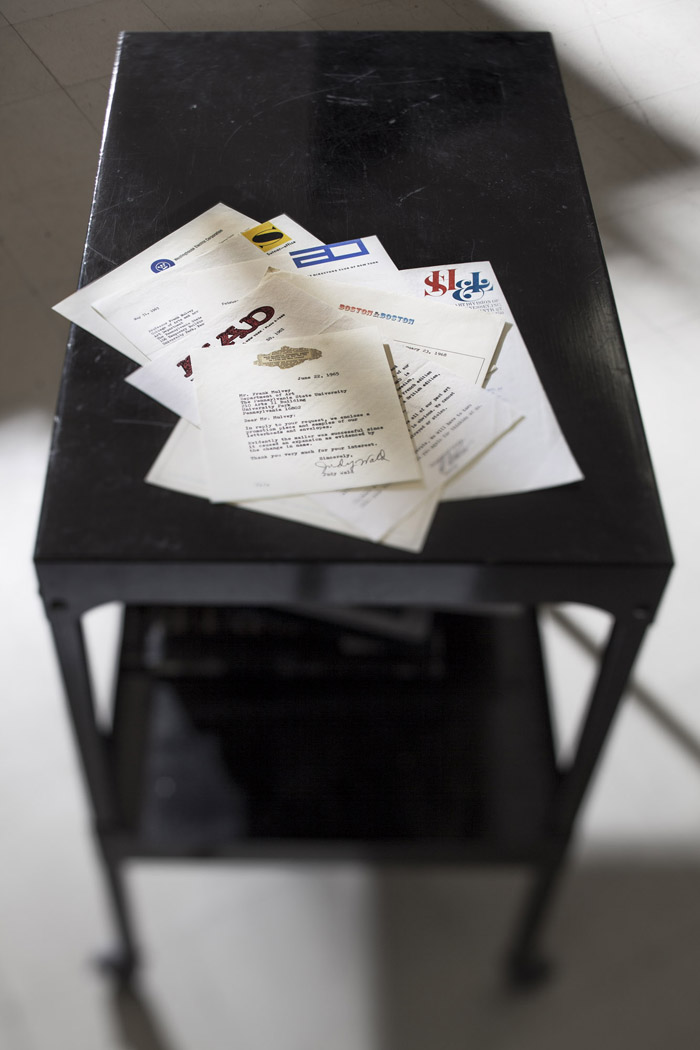 Photo by Anthony McLean
The contributors to the exhibition catalogue
Frank Mulvey, curator and catalogue editor
Frank has worked as a professional artist for over three decades, and has taught at Dawson College since 1989 in the Department of Fine Arts and the Department of Illustration & Design. In 2009, he was given a Teaching Excellence Award by the Director General of Dawson College.
George Vaikunas, catalogue essay
George specializes in book design, and is the recipient of national and international design awards, including 22 Alcuin Awards for Book Design in Canada. After working as a senior designer in Toronto and Boston, and operating his own office in Vancouver, in 2006 he relocated to Montreal and teaches in the Graphic Design Department of Dawson College.
Anthony McLean, photography
Anthony Mclean is a Montreal photographer specializing in art and product photography.
Over 100 designers
This exhibit features the work of over 100 designers who were active during the 1960s. A selection of letterheads are reproduced in the catalogue.