The Design Process: A Case Study in Surgical Simulators
La prise en compte des facteurs humains est toujours au cœur de la démarche du designer industriel. C'est elle qui donne un sens au résultat final, qui le consacre. La prolifération des interfaces digitales dans la conception de produit amène une nouvelle dimension dans l'interaction avec un appareil. Il s'agit là d'une opportunité formidable à saisir par les designers industriels d'élever la cohérence du produit, de rendre l'interaction plus intuitive et de rehausser l'expérience globale de l'utilisateur.
Taking into account the human factor is always at the heart of the process of the industrial designer. It is what gives meaning to the final result and it is what grounds the undertaking.
The proliferation of digital interfaces in product design brings a new dimension to the interaction of designers with the creation of new devices and products. This phenomenon provides a remarkable opportunity for the industry to raise the consistency of product design, and to make the creative processes more intuitive while enriching the overall experience of end users.
Patrick Mainville, of Alto Design, winner of a prestigious REDDOT Product Design Award for 2013, will present the design process involved in creating award-winning surgical simulators.
Below are photos taken during and after the presentation.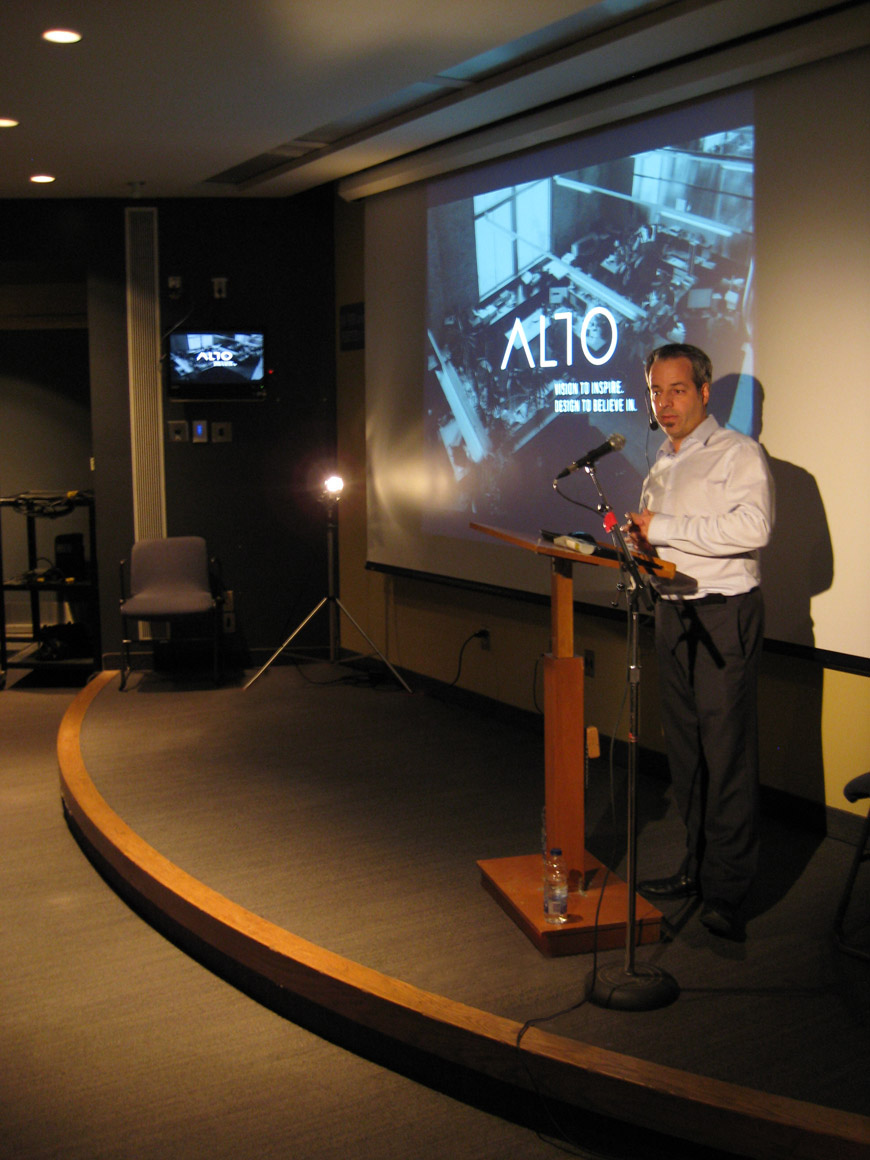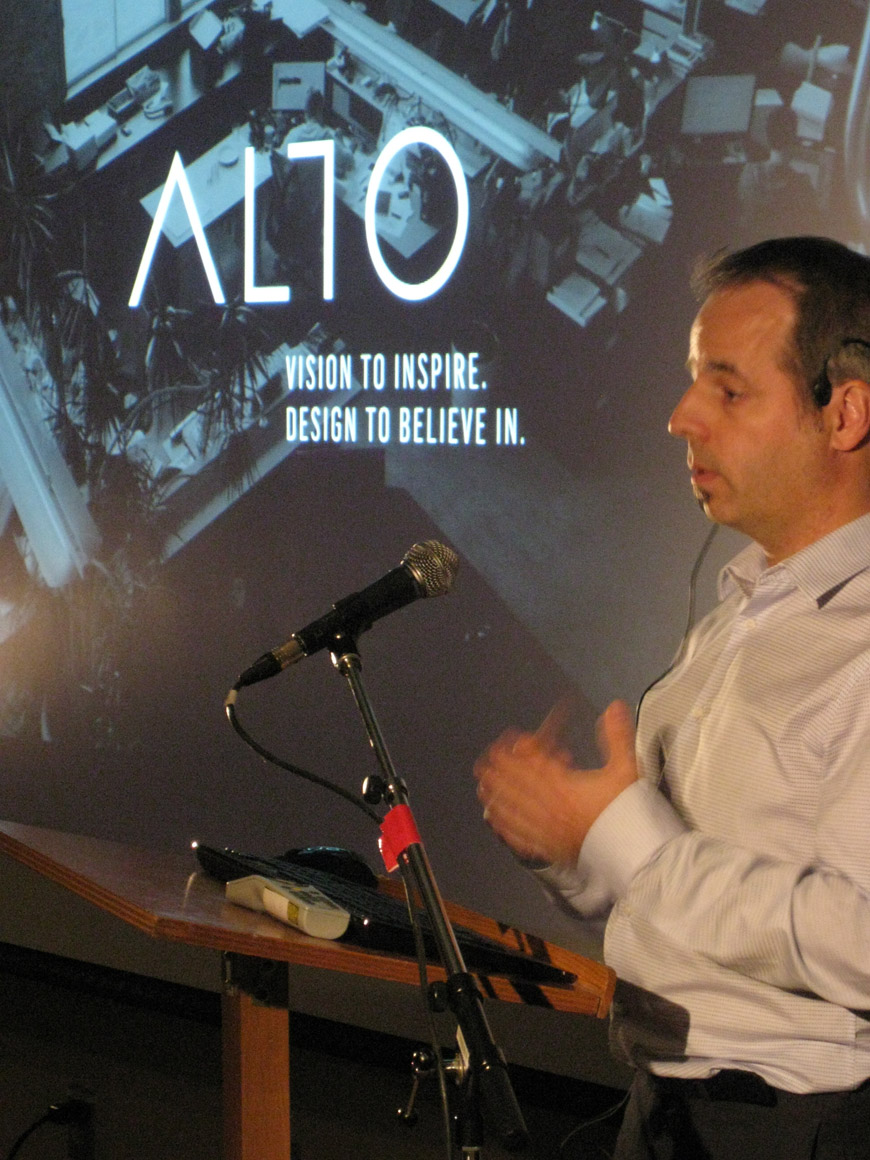 Below: students, facutly and administration listening intently to Mr. Mainville's presentation.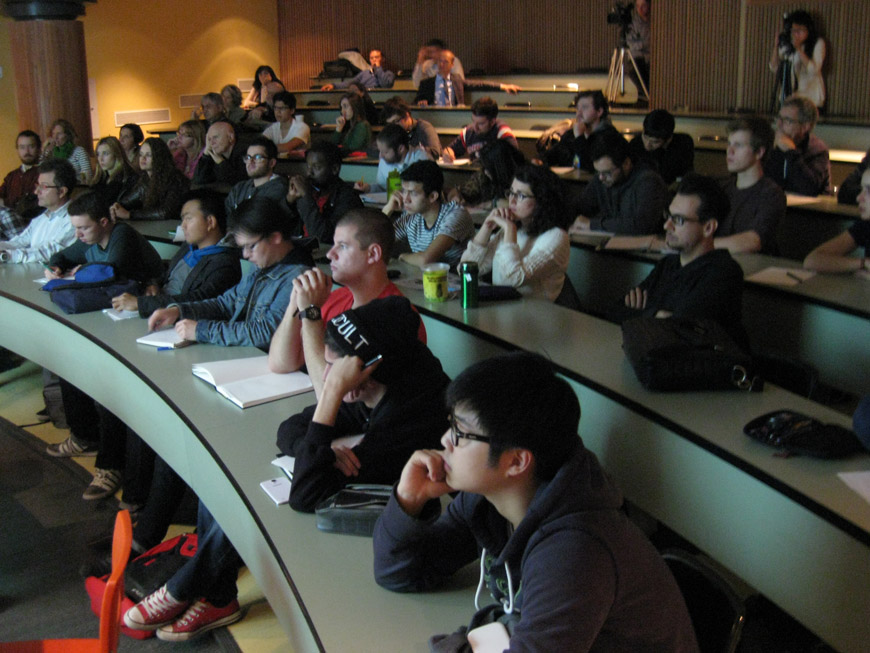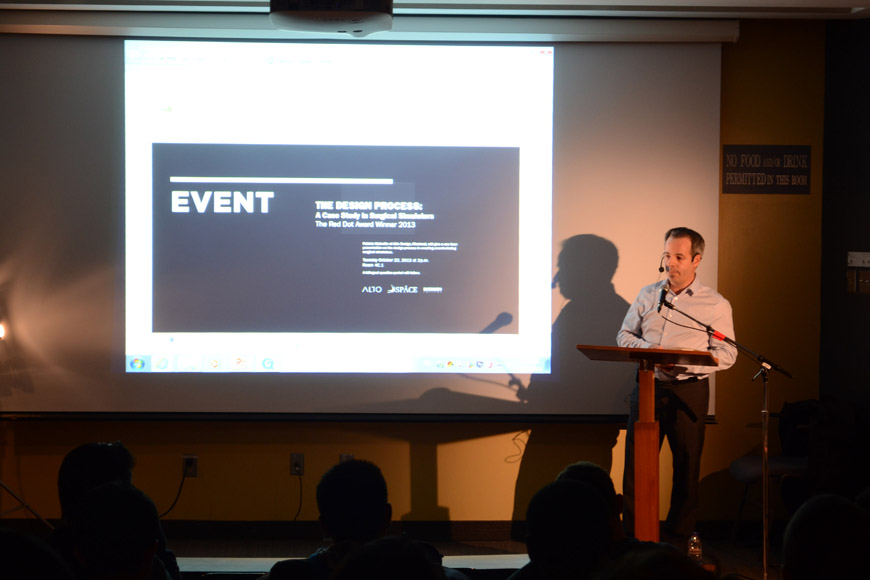 Below: Mr. Mainville (centre) in conversation with Maureen McIntyre (left) from the Fine Arts Department and Michael Santella (right) from the Industrial Design Department.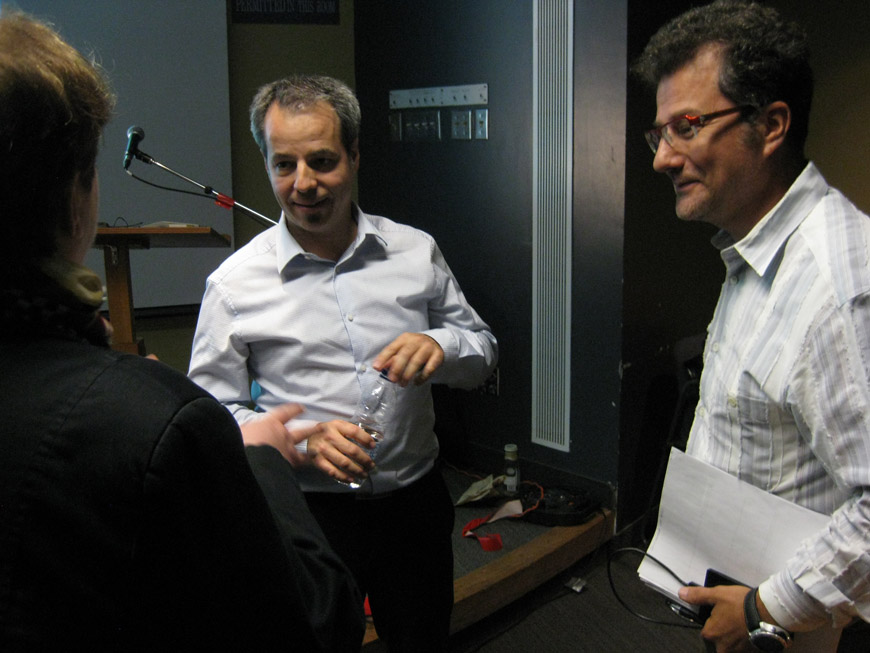 Below: Mr. Mainville (left) in conversation with Michel Seguin, David Weeks and Gheza Aszalos of the Industrial Design Department.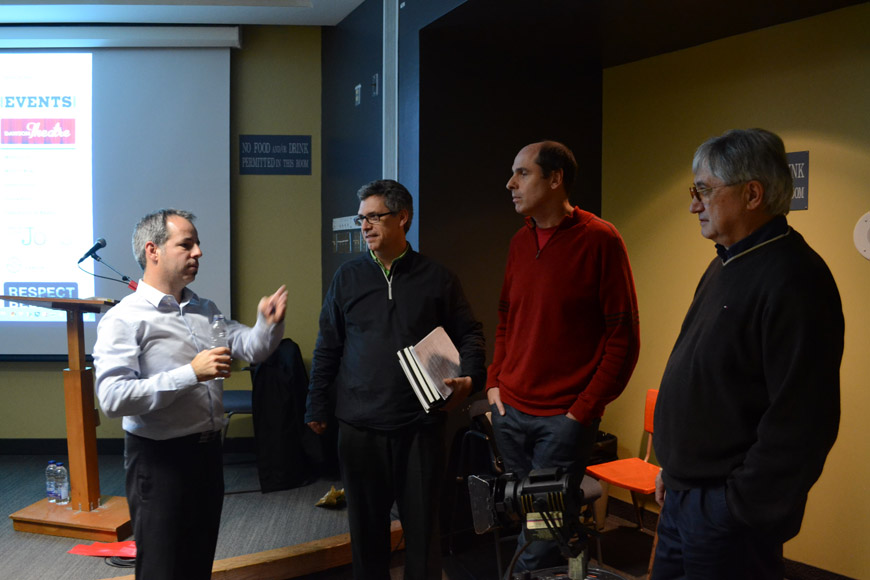 Acknowledgements
"Alto" slide image from the Powerpoint presentation courtesy of Mr. Mainville and Alto Design.
Mr. Mainville statement and bio courtesy of Mr. Mainville.
S.P.A.C.E. is very grateful to Maureen McIntyre of the Fine Arts Department for her initiative and commitment to this project.
Event photos by Frank Mulvey and Jessica Chan.
More about this Event
THE DESIGN PROCESS & EXPERIENCE
Ever since Montreal has been designated one of UNESCO`s international cities of design in c. 2007, it has seen design flowering through the burgeoning of design companies, education and awards of excellence. However, there is widespread awareness in the design community in Montreal in recent years that more needs to be done in educating business and the general public to the importance of design as an educational, cultural and economic determinator in Montreal and in Quebec.

Since 1986 when it was founded by Mario Gagnon, President of the company, ALTO DESIGN`s engagement in this enterprise has been profound through its open-door events, its presence on design award juries, in juries for governmental bodies targeting business innovation and its involvement with educational institutions throughout the island of Montreal and beyond. In the forefront is our speaker: Patrick Mainville. Mr. Mainville graduated from the Université de Montrreal with his degree in Industrial Design in 1994 and is presently General Director of ALTO. Recognized for his talent as an ideas person, Patrick specializes in the conception and development of products within the ALTO DESIGN firm since he became an associate in 2004. From 2006 he has been directing the continuing improvement of the firm's operations. In 14 years of practice he has contributed to the success of numerous projects with his global approach, a constant concern for innovation and knowledge of manufacturing processes and materials. Mr. Mainville participates closely in the creative process and the strategic orientation of projects while maintaining an overview of the firm's operations, identity and reputation. Patrick is a member of the ADIQ (The Association of Industrial Designers of Quebec) the IDP ( L`Institut de development de produits) and sits on the jury of the MDEIE (Ministère du developpement economique, de l`innovation et de l`exportation). As well, he is a jury member for Student Projects for the IDM or Montreal`s Design Institute.

Alto Design, under the partnership of Gagnon and Mainville, has served such clients as Via Rail Canada, Girardin Minibus, Weber Aircraft, Starbucks Café, Hoover, Broan Nutone, Quadricycle as well as many companies in the medical field. Among the many awards for excellence in design ALTO has won the Facteur D Award in Product Design in Montreal, 2011 and the prestigious REDDOT DESIGN AWARD for Product Design in the Life and Medicine Category for surgical simulators awarded in Essen, Germany in 2013.

Equivalent to winning the Pulitzer Prize for Product Design, the award by the international REDDOT jury for ALTO DESIGN reads as follows: "The design (…) has impressively succeeded in expressing robustness, simplicity and durability."
Mr. Mainville will focus on the design process and provide case studies in product design, with emphasis on human-centred design and its digital interface.