The Transition Generation
Illustrated by SOFIYA BAKIROVA
Do you remember cassettes? I vaguely recall having to hold down the rewind button on a walkman and watching the tape wind off of one of the "circles" and back onto the other. My older sisters remember putting a pen through the cassette and spinning it like a new year's rattle so they could rewind the whole thing in one go. My parents remember when cassettes were the latest technology, and when there were only two channels on their television, with a single dial that went back and forth between them.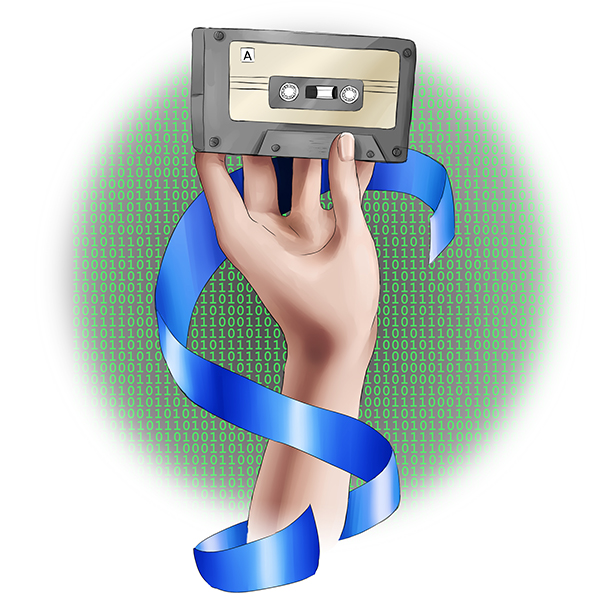 Nowadays each of us has our own phone; we surf through a few dozen websites every day, and do a good deal of our homework and research on a computer screen. And every year there are more new advances in technology. If someone had told me when I was a kid that in just a few years I would have a touch-screen laptop at home, or that everyone I knew would have a little phone with their whole lives on it, I probably would have laughed and thought you were telling me a cool story. But we all carry around some form of gadget today – whether it's a phone, a tablet, or a laptop – and that's not the only technology that has infiltrated our daily lives. Our whole society is filled with devices. Just think of all the public washrooms with automatic water streams and hand-dryers, automatic towel dispensers, and automatic flushing. Just a few decades ago someone would probably have freaked out if their bathroom appliances had started acting independently, but today we put our hands under a tap and wait for the water to come... and then laugh at ourselves when we realize we are supposed to turn the faucet handles – what kind of public washrooms have handles these days?
We're renewing and replacing our technology at amazing speeds; but just how fast are we going? These days we're able to implant sensors into peoples' brains to give them motor function of a prosthetic limb. Right now it seems like an obvious progression of our technology, but I can't help but think that just a short while ago it would have been brushed off as science fiction. We haven't just waded into science fiction; we've jumped into the deep end of the science fiction pool. We can map out our own DNA; we've got honest to god invisibility cloaks in the making!
According to historians, we began an age of computers and communication sometime in the late 1950's. We call this the Digital Revolution, and it's had a great affect on our modern society. Sometimes it seems like that was lifetimes ago, but so many people today were alive then. Many more were alive a few simple decades afterwards, when the latest Industrial Revolution was still going strong in the 70's. The things we take for granted have existed for barely 50 years. The first computer that we would recognize was used in 1949, but the idea of a computer had been around for hundreds of years, evolving from a computer – a person who performs calculations, or computes – to a computer – a machine that does all this, and more. We keep improving and making new technology in order to make things easier on ourselves. Tech may be the result of advancing science and engineering, but it's also what propels us forward at such a great speed.
What I'm really trying to ask is, how fast can we go? I've seen and used floppy disks in my childhood, and I've noticed that the button I press to save a file is a small icon of one. But many kids today don't know that; they've never seen a floppy disk. They've been using USB sticks and hard drives their whole lives. One day maybe their children won't even remember USB sticks, because for them information storage will have transitioned into a new form. That's what we are right now: a transition generation, living in a world of change that is taking place as rapidly as in perhaps any generation in history... But at the rate we're going, it's possible that the future generations will be transition generations as well. What will be the effect on us, on them, on our world, of living through such times? What are the effects already? Questions for the transition generation.
Sources:
http://www.buzzfeed.com/donnad/27-science-fictions-that-became-science-facts-in-2
http://www.computerhope.com/issues/ch000984.htm
http://www.extremetech.com/extreme/143648-giant-leap-for-bcis-paraplegic-woman-uses-mind-controlled-robotic-arm-to-feed-herself