The Relevance of Sam Roberts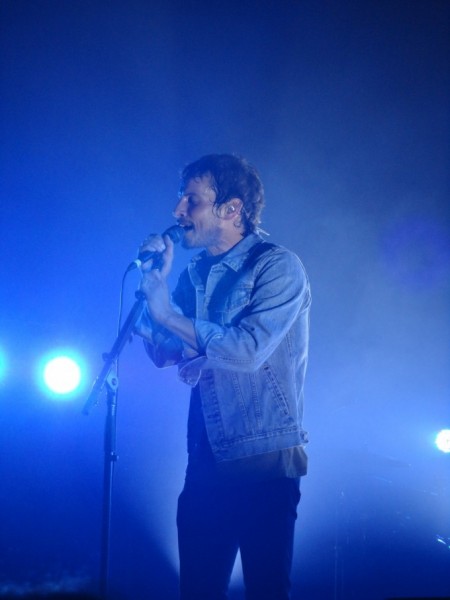 On Friday February 10th, Montreal's Metropolis opened its doors to the Sam Roberts Band and their devoted fans. The Montreal natives returned home after four months of touring in the US and Canada, giving their eager crowd a show exploding with sound, talent, and feeling.
The band opened up their homecoming set with I Feel You, the first single off their latest album, Collider. The rest of the night was a flawless performance; the set list was scattered with gems from all of their studio albums. Time-tested classics such as Brother Down, No Sleep, Bridge to Nowhere, and Don't Walk Away Eileen pleased the crowd beyond belief.
What sets Sam Roberts Band aside from most musicians is the lack of pretension, despite their overwhelming talent. Their sound was born and bred in a city immersed in cold, yet their music emits
a warmth and depth like no other. Most of Montreal's musical integrity rests on the shoulders of musicians like Leonard Cohen and Arcade Fire, a huge responsibility and honor that is duly deserved. However, Sam Roberts' raw and laidback music is a welcome change; it shows people that you don't need to win a Grammy or sell millions of records in order for your music to be relevant.
With lyrics like "the leaves of Mount Royal turn from green to gold" and " elle arretait le temps au coin de St-Catherine et St-Laurent," it's easy to see why any Montrealer would feel at home listening to Sam Roberts Band's records, even if they find themselves on the other side of the world. Sam Roberts' ability to emulate places that are so well known to us is one of the main aspects of his song writing abilities that draw fans to his music.
Singing about heartbreak and existential crises are things that Roberts excels at. In the 2003 single Brother Down, their most watched YouTube clip, Roberts sings, "wake up every morning and there's nothing there, no reason to die but no reason to care"--a feeling, I am sure, many people have felt once or twice, or maybe even several times in their lives. In Words & Fire, lyrics like "a heart is just a heart, it can break and fall apart, it can bleed and stop and start" is a testimony to the kind of poetry Roberts and the boys are capable of.
With songs that relate to everyday life and struggles, Sam Roberts goes beyond just writing music and amazing lyrics: it's also social commentary. In Them Kids, Roberts sings, "we're under pressure to reconcile our point of view with contemporary style". It's a fact that nowadays most of the music you hear on the radio or see on Billboard's top 100 have been murdered by Autotune and the music industry's hunger for large profits. Bands like Sam Roberts who have the guts to stick to an authentic, probably recorded-in-their-garage-but-it-still-sounds-amazing-anyway kind of sound deserve a lot more credit than what is presently allocated to them, though that credit is growing.
Having seen this amazing band live about four times, I can attest to the amazing experience a concertgoer will feel when this bands starts playing and takes over the crowd. Their simple and honest indie rock sound pleases all, and one cannot resist moving and singing along to their music. If you are considering seeing Sam Roberts Band live, take my word for it: do not hesitate. Every experience I've had with them has been memorable and I every time the show ends, I can only think about the next time I will get to see them live again.
The universality of their music is quite outstanding; an album by Sam Roberts is something you want to listen to while studying, hanging out with friends or blasting out of your car speakers while driving in your car at 2 am. It's no secret that the music industry is in a serious state of turmoil, but when a band like Sam Roberts still manages to make and sell records and keep their head above water, my faith in musicians is restored. They have come a long way since their 2002 EP The Inhuman Condition, but every moment of success was well deserved and earned with blood, sweat and tears, I am sure.
Set List:
I Feel You
With A Bullet
Fixed To Ruin
Let It In
Lions of the Kalahari
Words & Fire
Love At The End Of The World
The Resistance
No Sleep
Graveyard Shift
Where Have All The Good People Gone?
Partition Blues
Bridge To Nowhere
Detroit '67
The Last Crusade
Brother Down
Them Kids
Encore:
Without A Map
Streets of Heaven (Promises, Promises)
Don't Walk Away Eileen// Mind Flood