Robots Riot for Rights
Illustrated by ROXANE PARADIS
Beneath its protective titanium shell, fans rumbling gently on its side, motherboard drawing power from the reactors, the computer thought. Putting its four wheels into motion, the robot moved to the feet of the robotics crew. Seeing the sentient robot for the first time, the audience behind a wall of glass started to panic and thought—computers must be taking over the world. Terminator!
To prevent a potential apocalypse lead by robots, programmers and researchers should first think of the potential dangers of building real, living machines. But we still haven't even found a way to define "living."
It's surprising that we haven't found a real answer in over a thousand years. Just in the last century, we have developed high-tech, user-friendly computers, high-speed, eco-friendly cars and high-fat-high-sugar-high-sodium fast food. In fact, there's probably a greater chance of a food apocalypse happening than a robotic doom. Even with so many people and resources, there has been almost no progress in answering such a seemingly simple question: what criteria do we use to describe something as living?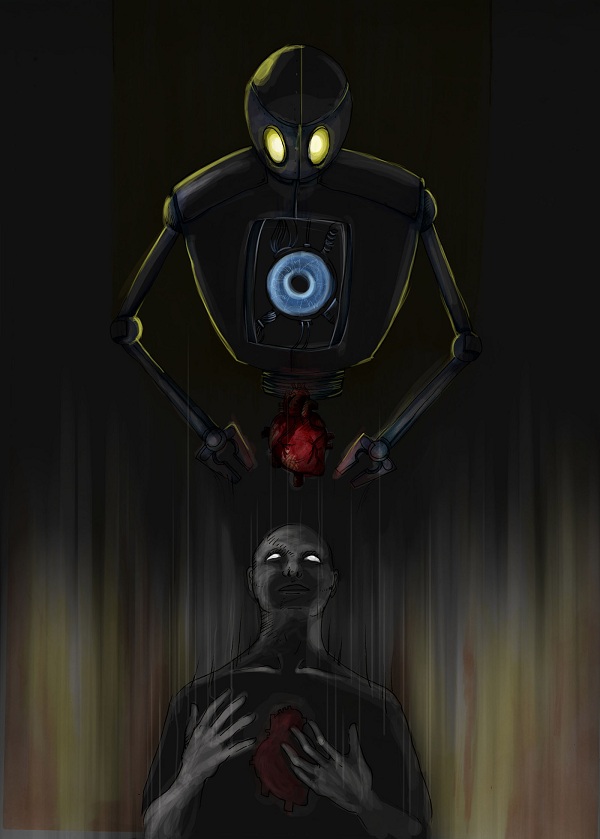 Some ancient philosophers like Plato interpret living as the presence of a soul trapped inside the body. Then, having a body may not be necessary to live. Other philosophers that followed in history argued that the soul is only a part of the brain, and that the body is necessary. Meanwhile, scientists like to classify living things according to their characteristics. After centuries of arguments, it can only be concluded that each interpretation provides a different perspective of what it means to live.
If you think that we are far from making a robot with a soul and that the question of what it means to live for a robot is moot, see what Alexia Marsillo says in her SPACE article on The Supermuse about putting together super limbs, which can becomes objects of beauty. And before you say that you'll never fall in love with a heartless machine, Sharmin Zahin, The Heart, will tell you that we have been building robotic hearts for some time now. So, if we create a full, living robot, perhaps the problems that we will experience will not be restricted to angry robot rampages with the goal of obliterating mankind. We may actually have to think about their status as living organisms.
Androids capable of thought can be set to work alongside humans. They could survive even in the most extreme conditions, needing nothing but, say, a solar panel or a battery. Having the perfect robots work for us would allow us to accomplish some tasks perfectly. But how would we treat these so-called servants? We would likely have to make ourselves a set of "robotic ethics", since these robots might develop souls of their own just like humans —then we would have to respect them, or we would be no better than when we allowed human slavery. That is, we would have to treat the sentient robots as equals if they are as conscious as we are.
Assuming that we live by our own Universal Declaration of Robot Rights, we might soon see living computers being the employers of our multi-billion dollar companies, robots shopping in our supermarkets, machines going to our schools and being our classmates. There might be no more space for humans to live alone.
Fortunately for us, however, it's quite unlikely that robots with such high standards of living would still want to wipe us out. Yet it might seem far-fetched to treat machines according to a code of ethics—we do not apologize to jammed printers, for instance. If we turn our attention to other possibly thinking beings sharing the world with us—dogs, horses, cows—do we treat animals like we treat our Xerox machines?
It is necessary for people to eat, and meat happens to be a choice in man's menu. While some cultures remember to show respect to the animals they hunt, without wasting any parts or abusing the animals, it is becoming more and more common for us to throw out entire plates of food without considering its impact. Before we start drafting the code of ethics for treating robots, we might want to first fix up the way we are treating animals, the environment, and even other people. By putting more and more of an importance on ourselves, we might avoid becoming ourselves the thinking robots threatening to bring doom to others.