Julius Caesar, With a Vengeance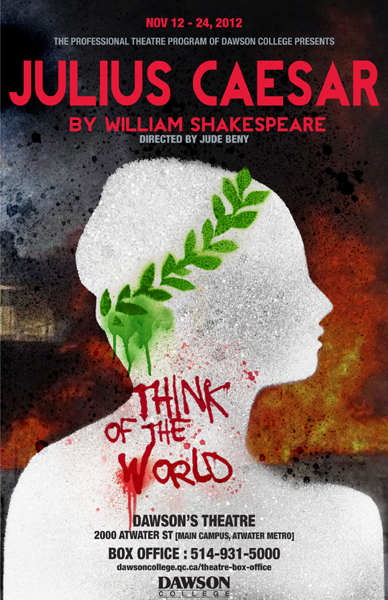 The Dawson Theatre Program is presenting its first major production of the year, a vibrant rendition of Shakespeare's Julius Caesar. This freshly adapted piece presents issues of our modern world in an old Roman style.
The play revolves around the ancient Roman dictator, Julius Caesar, who is an unrivalled leader of the Roman Republic. The story takes off when Cassius, politician and militant, fears that Caesar's indisputable power will convert the republic into a monarchy and lead to the oppression of the people. To preserve the freedom of the republic, Cassius believes that Ceasar's rule must end. This belief is fostered and grows among a group of rebels, including Brutus, who become conspirators and plot Caesar's murder.
The performance is filled with raw power of revolution and illustrates how the sparks of the desire for change can flame into growing chaos. Just as Shakespeare used Julius Caesar to communicate the political issues of his era, director Jude Beny adapts it to interpret today's world politics. In her interepreation, the play is filled with provocative references to recent global unrest. Genders have also been reversed for certain roles, creating an innovative twist on the traditional characters and their various roles in this engrossing tale of vengeance and revolt.
This rendition of Julius Caesar promises to provoke its audience and incite powerful responses with its portrayal of a barbaric approach to political change. Be wary of the Ides of March, and think of the echoes for our world today. Is the same powerful spirit of human rebellion against tyrrany at issue in any revolution? What are the potential unforeseen consequences of revolution? We invite your comments below.
Previews (FREE)
Nov. 12,13 7:30pm
Opening
Wed. Nov. 14th 8:00pm
Performances
Thurs. Nov. 15, 16, 17, 22, 23, 24 at 8:00pm
Matinees
Nov 14 (SOLD OUT), 16 and 22 (SOLD OUT) 12:30pm
TICKETS: DAWSON RATE ONLY $5