I Wanna Go Home: Chekhov's Three Sisters
There's no place like home… or at least the thought of home. What is it like to be so close, yet so far? "Home" may be a trip away and yet… nothing, static. Then there is hope: newcomers, heroes, rescuers; soldiers seem to be an answer to "home". This is the trepidation Olga, Masha and Irina feel in Three Sisters, a play by Anton Chekhov, often considered the greatest Russian playwright of all time: Three sisters, three different lives but all living under one roof, and longing for one seemingly unattainable goal: Home.
At the Dawson Theatre, in late January, take a journey into Russian territory and discover the story of the Prozorov family. Set in a provincial town in Russia during the beginning of the 20th century, Chekhov's play depicts the struggle a family goes through to achieve what seems like an improbable future.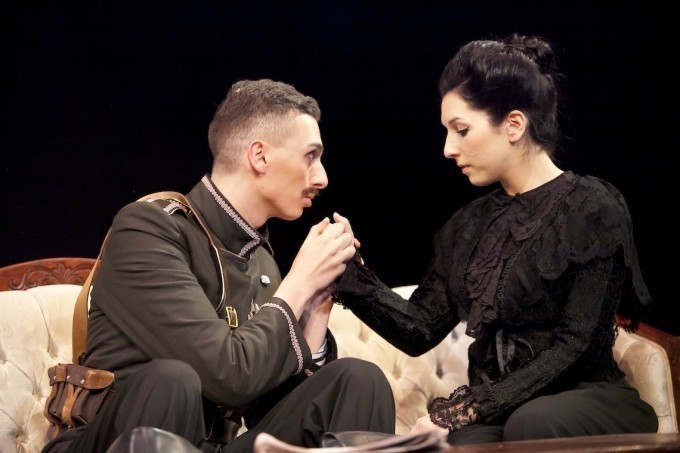 Olga, the oldest (played by Chantale Demole and Sherina Forte-Jones in an alternating cast) is a teacher. She is unmarried, protective and motherly towards her siblings. She leads a rather quiet life, often filling in for the absent headmistress at her school. Masha (played by Mara Lazaris and Grace Gordon), the middle sister, married right out of high school to a kind man named Kulygin (play by Jonathan Dufour). She lives an empty marriage before meeting Vershinin, the gallant lieutenant-colonel (played by Adam Capriolo and Anton Golikov) whom she idealizes. Masha faces a complex situation: will she go behind her husband's back in a clandestine affair? Or will she remain faithful? Finally there's Irina, the youngest, the dreamer (played by Kayleigh Choniere). Her desire, resilient and passionate, is to return to Moscow, the city they left eleven years ago. She believes she will find her true love in this Utopia, the perfect place for her and her sisters to be. Her admiration for the baron Tuzenbach (played by James Soares-Correia) is not synonymous with love. However, the baron's relentless attempts to make her love him and marry him are many and venerable. Will Irina fall in love? Will she get to Moscow? Time will tell.
Amidst the sisters is a brother, Andrei, a young man with idle dreams of becoming a professor. His gambling problem is only one obstacle to such a course in life. Natasha, his love interest, is a woman described as insecure and awkward. With their marriage, early on in the play, the whole family is forced to adapt. Andrei's life will take a dubious turn, and Natasha's inclusion to the Prozorov family will have its fateful impact. Will they be happy? Or will all their dreams and hopes fall flat? The play may be called Three Sisters, but rest assured there are many a character who will be key to the importance and flow of the story.
Three Sisters is a great production brought together by the Dawson Theatre community. Directed by Barbara Kelly and produced in collaboration with the whole Professional Theatre student body, this will be another example of fine young talent working together, demonstrating their undying passion and dedication to the art of theatre while making sure to keep the audience interested and intrigued. With a promise of laughs and cries, this will be a show you won't want to miss!