Design and the Elastic Mind
Illustrated by EVARA DAVID
Greeted by a digital array of dandelions dancing gracefully against the black walls of the Museum of Modern Art, the Design and the Elastic Mind exhibition encompassed modernity and science optimistically and surreally. The exhibition in Manhattan uncovered certain aspects of society and succeeded in making the future of our world a little brighter. Some of the work tapped into our innermost thoughts and desires and exposed our need to make life more convenient. Every design promised a way to make the earth peaceful and showcased possible attempts to banish pollution. The artists featured in this exhibit gathered their inspiration from nature but not in the conventional way. There were no floral patterns or animal prints, it mimicked life in a deeper sense and what it reflected was strange, beautiful and striking.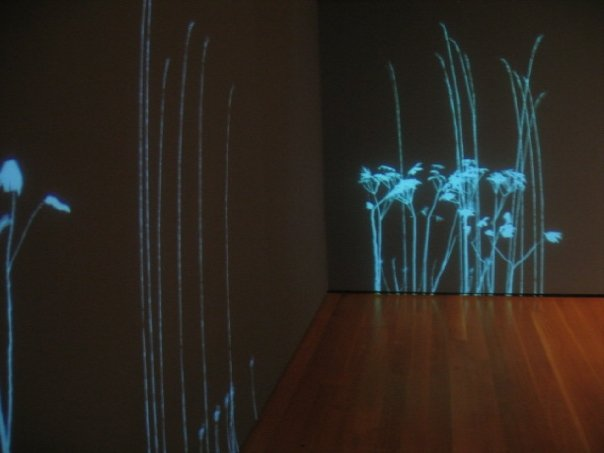 Green Optimism
The environmental design section of the exhibition is where you will find science and art uniting to portray present worry about environmental issues. Every design provoked ecological concern that resulted in an underlying uneasiness only consoled by the "green" optimism from the scientists. The "victimless leather" design by Oron Catts and Ionat Zurr, resembled a miniature jacket attached to wires and flasks filled with red liquid all enclosed in a metal box. The design looks modest but claims to have made real leather without ever harming a cow. Grown in vitro, Catts and Zurr have managed to generate leather while being environmentally friendly. With a growing concern for ecological issues, the two scientists from the University of Australia believe that "biotechnological research occurs within a particular social and political system, which will inevitably focus on manipulating nature for profit and economic gain". Zurr and Catts have taken an unease shared by society and turned it into enormous economic possibilities.
Shoes on the Fridge
Emili Padrós from the Emiliana Design Studio in Spain, has designed a pair of shoes that she calls Non-Stop Shoes, or NSS. Padrós design is simple but carries a powerful message: saving energy doesn't have to be an inconvenience. The plain looking sneakers store energy from everyday actions such as walking the dog or climbing stairs. A lamp, radio or other simple device can then be powered once enough is collected.
Electric Care
Another section of the exhibition focuses on expressing sensitivity to human and environmental needs. The Power Assist Suit, made at the Department of Robotic and Mechatronics, Faculty of Engineering, at the Kanagawa Institute of Technology was originally designed for younger people to care of the growing elderly population of Japan. The battery-powered suit is attached to several sensors that measure the amount of energy exerted by a person wearing the device. Sending out the amount of energy that is needed to complete the task, the computer responds to the information it is given. The wires and other devices attached to the person are then stimulated, allowing the person to exert twice the amount of power they normally would have been able to. The device can be used for lifting patients from their hospital beds and other tasks. Society's fantasy of a "super human suit" that has long been conceptualized in cartoons, novels and movies creates anticipation for other uses of this new machine.
Skeletal Servant
Chuck Hoberman, Mathew Davis and David Wight's design introduces the idea of architecture designing itself around society rather than vice-versa. It responds rather than waits for our instruction while maintaining an aesthetically pleasing and durable structure. The "Emergent Surface" stands as a lean, twisted steel structure composed of diamond shaped units that open and shut depending on its environment. When all the units are open, the structure resembles a skeletal metal edifice that can then close to either look flat or bent depending on the point of view. The building can allow for shelter from certain weather conditions or even ease communication inside the building.
"There were no floral patterns or animal prints"
On the sixth floor of the Museum of Modern Art, societal innovation is shown at its finest. Humanity is moving forward while science is conforming and designing itself around us, only to be encouraged and portrayed through art. Although the innovative designs are abstract in some cases, they communicate an optimistic future. From energy shoes to lean metal structures, the exhibition put forth an idealistic world. This reality conveyed a mutual relationship; between art, science, humans and technology. Scientists and artists finally gave an answer to a question that has plagued society for centuries; can we coexist? Design and the Elastic Mind answered, why not?
For more information please visit www.moma.org