Clashes in avant-garde fashion
"Perfect harmony is boring" - Yohji Yamamoto
The collision of worlds and conceptions is essential when it comes to the arts, namely in fashion. Fashion is universal. Whether you live in Europe, in Asia or North America the fashion industry is present, with a large crowd of admirers. (Unless you live in a nudist colony.) In this month's article, we will observe one of the most influential and innovative designers the modern day has ever seen, Yohji Yamamoto. Yamamoto is known for creating shocking avant-garde clothing. In the beginning of his career, Yamamoto was not well received by his critics. After months of traveling across Europe and presenting his sketches to magazines and editors, he was not able to produce a single sale. After some time, he produced a collection of raincoats that was peeked a Japanese buyer's interest. In 1972, he launched the Yohji Yamamoto label. His designs were deemed strange and he had a tough time breaking into the industry.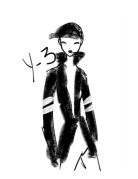 Today, Yamamoto has grown to become a reputable and valuable designer in the industry. Recently, he has paired up with Adidas to create a line of high-end sportswear called Y-3. Textures and textiles continue to be the epicenter of his work. "Fabric is everything.", is his infamous mantra. Yamamoto's recent runway show during New York fashion week was a far cry from dull.
Yamamoto doesn't consider himself a designer but a dressmaker. He claims he hates fashion, and only thinks about how he should cut clothes. His inspiration stems from anger and darkness. Yamamoto loves to wear black. He was born right after World War II into a dark and chaotic Tokyo. The scenes he saw when he was younger influenced his outlook on life, which reflected into his designs. He does not feel comfortable in the light, in whiteness, being only concerned with the more wicked side of things.