Disney: Are you still the child you once were?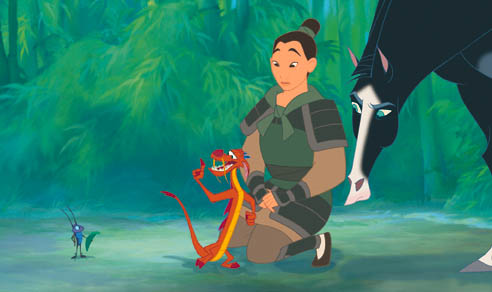 A runaway princess eats an apple poisoned by her evil stepmother and waits for her Prince Charming to come and awake her with a True Love's Kiss. A cursed beauty pricks her finger and has to go through a century of sleep to see the light of day again. A young girl longs to be reunited with the gallant man she met at the ball on that night where she left her glass slipper behind. The Snow Whites, Sleeping Beauties, and Cinderellas of this world might seem stereotyped because of their of their damsel in distress portrayals, but could there be more than simple fairy tale character behind those people?
Original fairy tales, such as those written by the Brothers Grimm or Hans Christian Andersen are pretty violent. The original Cinderella has the stepsisters forced to dance in heated iron shoes until they die from their injuries. That's something you would never see in the Disney adaptation of this timeless classic. Does it indicate that Disney movies lack depth and courage by avoiding more mature and grim parts of stories? My answer to that would be: not necessarily. It might look like the values transmitted through those movies are simplistic and conventional. But Disney can dare in some instances. Have you ever watched back your favourite childhood animated feature and felt like the message conveyed was much stronger than you remembered it to be? Many vintage Disney movies are designed to appeal to both adults and children, and it's normal to see different things through them whether you're 8 or 18.
Take Pocahontas: lyrics from this piece have never been more relevant than today. While not particularly historically accurate, the Disney character comes off as a strong woman who advocates for the preservation of nature in the 17th century. The movie was released in 1995, before environmental protection debates were in the heat of the action, and it also tackles issues related to tolerance and equity.
"The rainstorm and the river are my brothers
The heron and the otter are my friends
And we are all connected to each other
In a circle, in a hoop that never ends."
It is a beautiful imagery that, combined with the splendid animation, brings a vivid perspective of the way humans behave with nature and with each other. It might not be the first thing that catches the attention of a child, but as you get older and more educated about such problems, the "children songs" suddenly appear to have a lot more meaning. Sleeping Beauty encouraged you to stay away from strangers as much as possible. But Pocahontas encourages you to walk in their footsteps. Children should probably know that not all strangers should be followed, especially not bears, but we still get what she means. The same could be said about a much darker Disney movie: "The Hunchback of Notre-Dame." There is an underlying theme of religious heresy and pitiless social rejection. While it stays far from the rawness of Victor Hugo's novel, it still goes much further than your average cartoon normally goes. Few animated features include references to "sin" and "lust", but this one did in the song "Hellfire", touching tricky concepts and subjects that can be very difficult to grasp, even for an adult. It is not necessarily kids-friendly material, but the treatment allows the message to get through in different ways depending on what you focus on. Another song from this movie touches a sensible subject: "God Help the Outcasts", which makes a very strong point about social injustice and selfishness.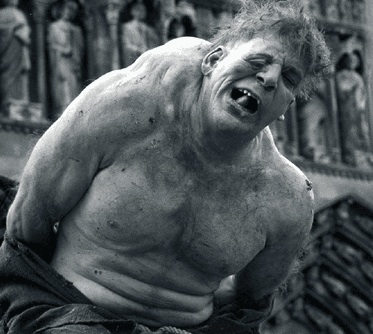 "God help my people
We look to you still
God help the outcasts
Or nobody will."
Seeing a gypsy in pain making a testimonial about her disappointment in face of the way things turned out for her community does reach out to a more emotional side. Faith, pain, exclusion, loneliness… Treating all of those themes while staying true to the "Disney spirit" is far from being an easy task. There is definitely a statement being made, and the antagonist's fear of our classical version of Hell is contrasted with the hope Esmeralda has for her own personal vision of religious salvation. Of course, you don't always have to get that far into it to enjoy the movie as a form of entertainment, but it's always interesting to notice that someone actually dared to bring those things up in that kind of format.
The stereotype of the damsel in distress still remains present in many Disney productions, as tales of knights in shining armour and heroic rescues always make a good story, but many more recent princesses have been portrayed with a stronger will and a desire to be independent and informed. One of those examples could be Ariel from "The Little Mermaid":
"Bright young women,
Sick of swimmin',
Ready to stand
And ready to know what the people know,
Ask 'em my questions and get some answers."
This excerpt from "Part of Your World" denotes a character that is motivated and empowered in some, and while the prince still rescues her in the end, there is a more feminist approach to the princess in question. Her ambitions and her desire to learn and become informed are refreshing and provide a stunning model for young girls, if you want your young daughter to disobey rules and look for dangerous adventures by dealing with greedy sea witches. Snow White wouldn't have said that. Cinderella neither. In this case, happiness is not only related to love, but also to independence and self-fulfillment. Eric could have been turned into a merman to allow him to be with Ariel at sea, but the ultimate purpose was to allow the princess to live her dreams and to experience what land was like. She finally finds a satisfaction to her longing.
Mulan also proved that she could be just as strong as a man in the song "I'll Make a Man Out of You". She had a goal, and she reached it, defying expectations in a context where gender equality was as far as it could be from today's reality. With time, princesses seem to have become more and more empowered, having personal objectives that transcend the basic idea of finding your prince and getting married. There is a purpose to "their" life, and not just to their life as a wife.
These may be just extrapolations. However, having recently done a Disney film marathon, I can assure you that such an exercise brings up much more than nostalgia. It teaches you information about the person you are now as opposed to the person you were before, and CEGEP is a perfect time to do that. As someone transitions from a kids' world to an adults' world, there is nothing better than a good Disney song to realize how far you've come and how different your take on things is. You might not even have known what the words "sin" and "lust" meant back then, but you can trace your evolution through the way you see your childhood. Though you are the same person you always were, your mind has changed and reached a different level of understanding. Now, go on a Disney marathon. Trust me, you'll love it.