A Question of Desire
Illustrated by JOSIANE TREMBLAY
I once bought a pair of jeans. In the store, they were everything I wanted: faded, slim-cut, made my thighs look fantastic; yet once they made it back to my home, they matched with nothing, were much too extravagant and simply annoyed me. They now collect dust at the bottom of my drawer.
It is strange that, before I possessed this item, I wanted nothing but it, yet, when I attained my desire, I wasn't satisfied; I was displeased and discontent with my purchase. Thinking over it now, I see multiple dust collectors in my room that were all once the diamond of my eye; all things with forgotten purpose.
This forgotten purpose that surrounds me is what I was reminded of by Anton Chekhov's play, Three Sisters. This play is currently being performed by the Dawson Theater third year students under the direction of Barbara Kelly. While the play itself reflects wasted desires and frivolous wants, the production and performance of this piece were the exact opposite: wasting no element and forgetting no detail. It was truly fantastic.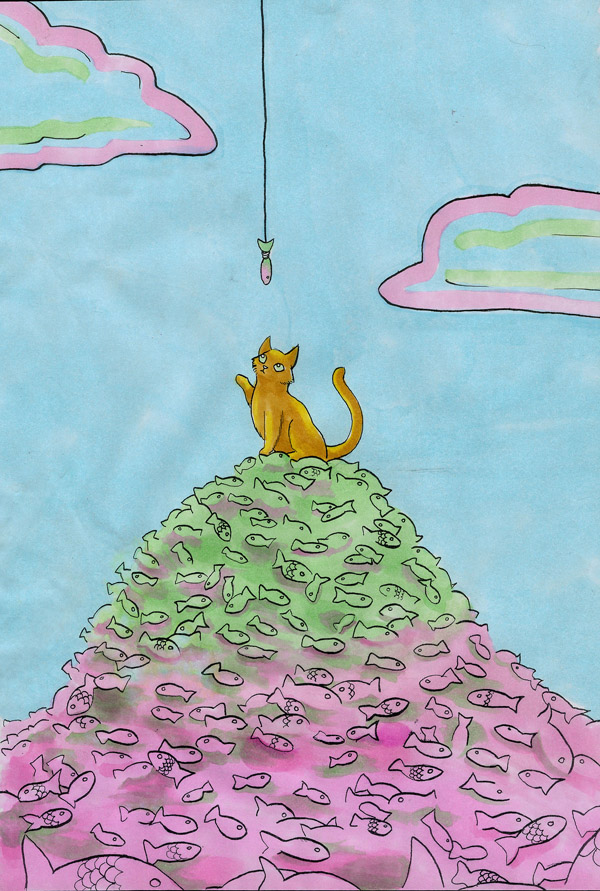 Primarily, I would like to commend the actors, not only for their ability to embody each and every character on the scene but also to draw attention to their dedication, precision, and skill. Every movement, whether it be major or minor, was done in character, never allowing the audience to see anything other than the character they played. The meticulous slow motion tableaus that were incorporated into the dinner scene were done within an inch of perfection and mimicked the exact motions of a realistic social encounter. No part, throughout, was over played, and for a cast of young actors, their ability to portray such heart-wrenching, difficult aspects of middle-aged life, is exceptional.
The direction and visual aspects of this play, like the actors, were spectacular. Barbara Kelly's surreal dreamlike idea for the production alongside Maya Jarvis' set design created a sparse, white backdrop that, although cold and clean, drew you closer toward the characters themselves. The set's perfect and un-lived-in feel made the audience empathize and wish for the characters' contentment. The third act, set in the upstairs bedroom, a confined and crowded area, as a fire rages outside, further demonstrates the character's inability to control the aspects of their life. It shows that despite the chaos that surrounds them, they still have no way to act upon their desires or dreams and are stuck in the lives they have been given.
The costumes, designed by Elisabeth Cognard, like the set, were simple but beautiful, demonstrating the class and emotions of the characters. Played by Mara Lazaris and Grace Gordon (on alternating performances), the middle sister Masha's dark clothing reflected not only the mourning of her father's death, but also, the supposed death of her life; her wasted marriage, her love of a man she could not have and her frustration with the town and people she saw daily. The military uniforms of the men also created contrast between character's morals and ideals. Colonel Vershinin, played by Adam Capriolo and Anton Golikov, believed that his lifetime would never see happiness: he wore his pressed uniform and ribbons at all times. Vershinin's moral opposition was found in James Soares-Correas' character, Baron Tuzenbach, who wore a simple brown uniform, simple and free. The costuming drew this subtle comparison, not only for their ranks but for their views of the world as well.
This provocative play forces you to focus on certain aspects of your life. It makes you question your desires and how far you would go to attain them. It also makes you think about the validity of your desires. Is what you want actually what you want? Or do you simply desire what you do not have?
With respect to my jeans, the latter would obviously be the answer to this question. I desired what I did not have. Seeing this play is different. It was not money that I spent on it, for I had received a free ticket. I did not desire to "possess" it. What I spent was time and emotion. Yet, I did desire to see this play. And if asked why I wanted to see it, and to which category I would place the experience from the aforementioned list, I would not answer with the latter. My answer would employ the former, again and again.
Masha proclaims with such ardent longing… "To Moscow! To Moscow! To Moscow". My rejoinder is… "To the Theatre! To the Theatre! To the Theatre!"